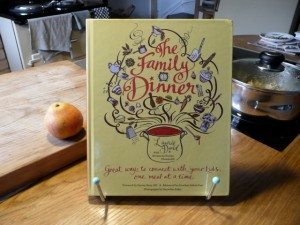 By Lorri Ballance Laird, LuxEco Advocate
Laurie David is on a quest.  But it may not be the one you are most familiar with. David, who was a producer of "An Inconvenient Truth," Al Gore's famous movie warning us of the impending perils of global warming, has taken her activist mentality and brought it to the family dinner table.
With her new book, The Family Dinner: reat Ways to Connect with Your Kids, One Meal At A Time (recipes by Kirsten Uhrenholdt), David is out to share her formula for creating great family memories one healthy dinner at a time.  "Now I'm focusing on the environment inside the home," she says. "I had an epiphany that what I was doing all these years with my kids was reaping me all of these benefits, and I wanted to share that with people."
What David was doing was insisting on family dinner time, making it a non-negotiable routine for her family for the past decade.  And her new book takes all the tips and tricks she has cultivated over the years and presents them in a beautiful, readable book that will not only help families connect, but also help them live greener, more sustainable lives.
You may ask, what does family dinner have to do with leading greener, more sustainable lives?  Plenty, according to David, including the way food gets to your dinner table, to the conversations around it, to how you store leftovers.  "Every single thing I care about crosses the family dinner plate, including my concern for global warming," she says.
According to David, having what she calls "Meatless Mondays" can help reduce global warming.  David says that animal agriculture accounts for a shocking 51 percent of greenhouse emissions. In addition, 70 percent of the world's farmland, land which is stripped of oxygen-producing trees, is used for animal production.  By eliminating just one-quarter pound of beef from our diets per week, Americans could reduce the amount of global warming pollution by the equivalent of taking four to six million cars off of the road, according to National Resources Defense Council (NRDC) estimates.
In addition, David stresses that the dinner table is a great place to start the conversation about global warming and what can be done about it.  "It's a way to educate your kids and to pass on these passions," she says. "I can't tell you how many people I have interviewed for this book who have said that their value systems and advocacy and activism were formed around the dinner table." (For family dinner conversation topics, check out The Huffington Post's Family Dinner Downloads, which features a question based on one of the week's top news stories.)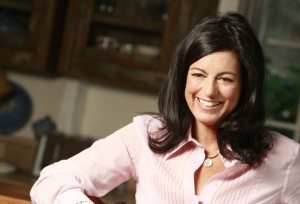 "Your kitchen can be the greenest room in your home," David says, and her book offers a multitude of tips from composting to her favorite green tip, using plastic shower caps as covers for leftovers. "Yes, it's still plastic," she points out.  "But what we have to get away from is single-use plastic like plastic wrap."  She chuckles when she shares that her home was filled with "plastic wrap abusers."  "I did an intervention," she says, "and we came up with the shower cap solution."
David is also a strong advocate for growing some of your own food.  "We have become so out of touch about where our food comes from because we don't grow it ourselves anymore."  She insists that growing your own food is one of the great joys in life, even if it's just growing some herbs in a pot.  By growing your own herbs, you don't have go to the store and buy the ones that are wrapped in all that wasteful plastic, she says.
David believes that this new book is just another step in her environmental activism.  Her numerous projects include two books, movies, television shows, and concert tours, all aimed at educating people about global warming.  She founded the Stop Global Warming Virtual March, and is a trustee of the NRDC.  In addition, the David Family Environmental Action Center, endowed by the David family and opened by the NRDC, features museum-quality exhibits on issues such as global warming, ocean pollution, everyday toxins, and green building solutions.
"I am grateful because I have resources and I feel an obligation to use them for good," David says.  "If I have information that is going to help make people's lives better, then I am going to share it.  It's what The Family Dinner book is about, and it's what my environmentalism activism is about: making people's lives better."
Enjoy a delicious holiday recipe from Laurie David's Family Dinner cookbook: Cauliflower and Sweet Potato Latkes