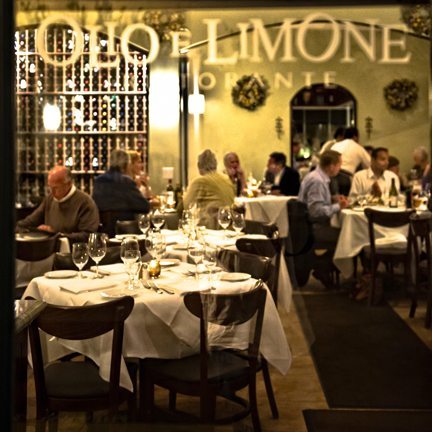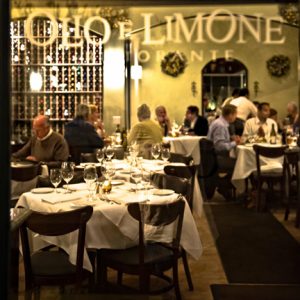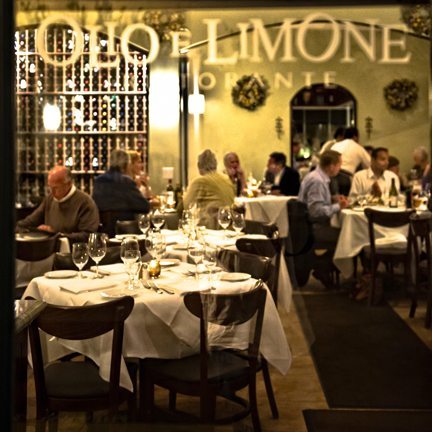 If you live your life in search of the "best tasting " food and in particular, you love Italian, then you better get ready for the best and freshest red…. as in sauces…. I'm talking sumptuous, melt in your mouth, hand made, one by one, ravioli, delicately placed on white porcelain smothered in succulent organically grown tomatoes blended with the olive oil (only the best virgin cold pressed) drizzled with a hint of garlic and fresh basil.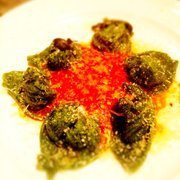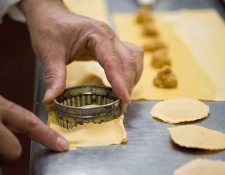 What if the waiter offered the same ravioli filled with pumpkin would that cause a riot in Rome… maybe, but not in Sicily.
Olio & Limone  as the name suggests, supports the best of flavors, fresh lemon and olive oil, and you ask, "how could something so simple  adorn almost every dish served on the menu? It's true. The simplest of ingredients if they truly are the best in their class help to create the value and the taste of the food served. Nothing can beat their home grown variety which is served for dipping bread and salads. Even in Provence we learned from Alain Ducasse, the master chef of French cuisine, that the local olive oil sets the taste and flavors for every dish they prepare. It is that essential.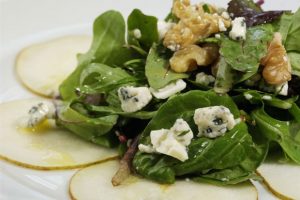 A Family Affair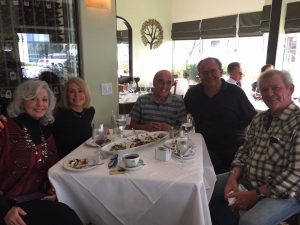 Cousins Sara Jane Drescher and her husband Ira are greeted by owner Alberto Morello for the best taste of Italy right here in California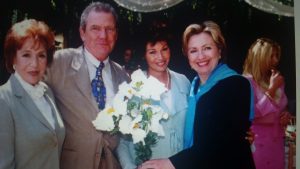 I grew up with a mother whose past life, no doubt was Italian. Lenore Breslauer pictured here with Jim and me and First Lady Hillary Rodham Clinton, owned and operated, for many years, the very trendy,"Pasta Etc," on Sunset Blvd.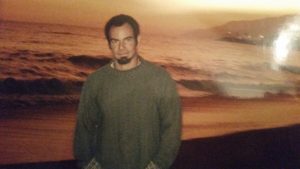 My brother Jon Gould, who had more  great food genes then Pavarotti had hits, was her left and right arms in the kitchen. Together they foraged  from scratch, one of the first northern Italian restaurants that welcomed the whose who in Hollywood as well as a horde of faithful customers.
The key to their success was the authenticity of their recipes and the best ingredients available. Having learned their art of northern Italian cuisine which tends to be more influenced by its European neighbors, such as France and Austria, as opposed to the Mediterranean, my palate was more attuned to those kind of flavors and preparations. However, Southern Italy has always been poorer than the North, and the cuisine of the region reflects this difference. Beef is less commonly used in Southern Italian cuisine, with lamb, fish, and pork being the preferred ingredients.
However, many people may not realize that water buffalo are a common farm animal in Southern Italy. There are more than 300,000 buffalo in the country, with the majority in Campania. The milk of the water buffalo is used to make mozzarella di bufala. This cheese is widely used in Southern Italian cooking. And Mama Mia… you haven't lived until you've tasted Olio & Limone's. Sensational! Fresh and delicious not rubbery or stringy the way most Italian restaurants serve.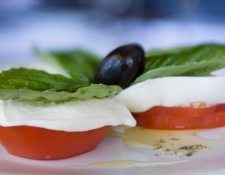 My cousins live in Delray Beach Florida and they consider themselves epicurean Floridians who just adore Italian food. They couldn't stop raving about their meal… "the best they ever tasted!"
Now, back to Pavarotti…. when your lucky enough to be greeted by the owner, Alberto Morello who sends you away yearning for more but says, "We have something else you might like, we call this the Titanic of deserts." And then, immersed in what appeared to be my sea of love, I gazed at the freshly made Cannoli's and put my fork at the angle of an intersection which read STOP. I cornered the Sicilian treasures as if it were my last bite on earth and did not share. I think I broke the house rules!

Olio & Limone is now my favorite Italian restaurant in the world…. and what a pleasure not to experience the burden of airplane pasta and worse, long lines for US Customs…. when all you have to do is find West Victoria Street in Santa Barbara and indulge. Il Migliore!!

Editor's Notes
Go! Olio&Limone
11 West Victoria Street, Suite 17, Santa Barbara, CA 93101
Phone: 805.899.2699 | Email: info@olioelimone.com
LUNCH: Mon – Sat, 11:30AM – 2:00PM | DINNER: Nightly from 5:00PM