By Nancy Chuda founder and Editor in Chief of LuxEcoLiving and co-founder of Healthy Child Healthy World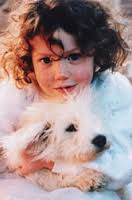 Colette Chuda 1989 photo credit Irene Born Newton-John 
"When a parent loses a child, there really are no words. There are no words to describe this grief, and there are no words to mend the broken heart that remains forever after. But my husband and I chose to try to make a difference. We said, let us take the remains of what would have been her life and in her memory, establish something that would give benefit to countless millions. It fueled our passion. It was our pain that carried us through — from pain to passion — in building the charity." For Colette: The Flower That Shattered The Stone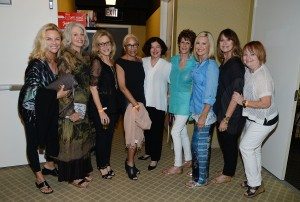 Wednesday's Moms, Denise Truscello photo credit (Suzanne LaCock Browning, Nancy Chuda, Colette Ament, Linda Grey Heitz, Marcy Hamilton, Cindra Ladd, Olivia Newton-John, Rebecca Foster and Lindy Willingham)
It all began with a group of very committed friends,Wednesday's Moms. My best friend, Olivia Newton-John, and I had shared the joys of motherhood together. We conceived our girls within weeks of one another, and they were born six weeks apart. Like us, Chloe and Colette had a very unique bond. They were glued at the hip.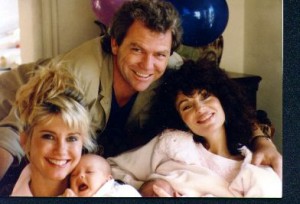 Olivia and Chloe Rose Lattanzi and Jim and me with Colette in 1986 photo credit Irena Newton-John
On Wednesdays, we would meet in special places with a group of friends and their kids. The William O. Douglas Outdoor Classroom is a beautiful park, filled with old-growth redwood trees and a duck pond with coots and mallards. It was the perfect place. It captured our children's attention and inspired us moms to protect them and the environment. We sensed then that the fragile ecosystems that supported all life — air, food, and water — were becoming tainted with chemicals. Nature herself was beckoning, "Protect me."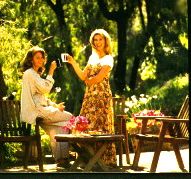 Chloe and Colette 1989

As mothers, we were sensitive to this calamity. We knew we had to defend our children. And we had to speak out against the use of pesticides and other chemicals that were invading our environment. Yet, in many ways, we felt helpless. When Colette was born in 1986, I was a television journalist. Prior to working for the network, I had hosted my own public affairs morning talk show Sunnyside, in Los Angeles on (KNXT) now KCBS.
For me, at that time, trying to balance motherhood and help my husband Jim support our family was a very big challenge. I didn't want to miss being with Colette. Working seemed to pull at my heart strings but I had hoped to find a part time job that enabled me to stay in Los Angeles where we called home. I had been breast feeding Colette and storing my milk in the freezer in case I had to be away during her scheduled feeding times. As luck would have it, I was offered a job as a reporter for The Home Show, an ABC network daytime talk program, a predecessor to programs like The View, where topical subjects became a platform for discussion. I was fortunate to obtain an interview with Meryl Streep, whom I had gotten to know as a volunteer member of an organization she co-founded with Wendy Gordon Rockefeller, called Mothers and Others for a Liveable Planet. Meryl Streep and Wendy Gordon Rockefeller founders of Mothers and Others for a Liveable Planet. Nancy Chuda ABC Home Show interview 1989-pictured with Janet Hathaway NRDC Attorney  
On the heels of a startling NRDC report, Intolerable Risk: Pesticide and our Children's Food, Meryl had graced the cover of Time, Newsweek, and was the focus of  other national media outlets  to defend the rights of children whose food supply — mainly apples — had become tainted with Alar (daminozide). This agricultural spray, a pesticide, was causing worldwide concern. Meryl had testified before Congress, demanding its removal. The controversy became the centerpiece for the Children's Environmental Health movement. It gave birth to the need for greater science and investigation in terms of children's vulnerabilities. Meryl's determination to awaken others to the misuse of pesticides gave me an opportunity to take a stand.

I rallied many of my influential friends in the entertainment community to support the passage of an all-inclusive environmental measure, California's Big Green initiative. To get national attention and raise awareness in support of this initiative — which would provide clean air, water, and food in California, as well as what I believed would be a template or model for other state initiatives — I produced an ABC television variety special called An Evening with Friends for the Environment, with Meryl Streep, Olivia Newton-John, Bette Midler, Goldie Hawn, Cher, Lilly Tomlin, and  Robin Williams.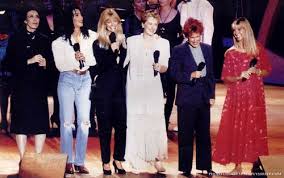 All of my work as an advocate became distilled in what I call an "infinitesimal moment of disbelief" the day I learned Colette had cancer. On May 23, 1990, our lives changed forever. Colette was given an 80 percent chance of survival, but the odds changed when her cancer metastasized. She lived briefly, only five years. But she lived long enough to experience what she had always felt and believed as a child — something that is intuitive to all children — that animals and humans share a precious habitat, Earth. Nature had gone awry, and we had a mission to protect and defend life against the threat of man-made chemicals, many of which would cause illness and life-threatening disease.
Two weeks before she died in 1991, Colette wrote a short story called, "Inga Binga and Whitepaw on an Easter Day." We sat on her bed, propped up against her favorite stuffed animals and pillows, and she recited, word for word, her dream for what she described as "the best day ever ": a world in which her loving animals, cats, birds, horses, dogs, chickens, zebras, monkeys all lived in harmony with nature — not against it. At a very early age, Colette developed a respect for life and living things, and, as a child stricken with cancer, she sensed her own vulnerability.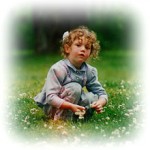 Elizabeth Hauge Sword photo credit
Even while undergoing chemo and losing all of her hair, she refused to wear a hat. Instead, she insisted on leading "babe walks" in the park she dearly loved. She wanted to teach other children how to protect the environment. This was her mission. In our darkest hours, days before she passed, we made a promise that we would keep her memory alive. Like her favorite color, we would make the word "green" and children's environmental health a global educational platform for all parents worldwide. On April 21, 1991, on the eve of Earth Day, we held her in our arms for the last time. But when morning came, her spirit took hold. Within a few short months, and with the help of our dear friend, Olivia Newton-John, and a small group of committed friends and family, we established The Colette Chuda Environmental Fund, to conduct research into the causes of childhood cancer in relation to the environment. We knew that millions of dollars — now billions — had been spent trying to find cures for cancer, but very little effort was placed toward prevention.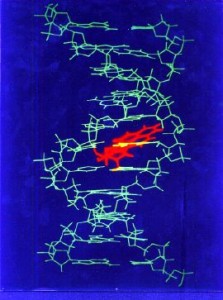 In November 1994, three years after Colette had passed, my cousin Betty Ann Gaynor approached her friend Shari Roan, a Los Angeles Times Health Writer who wrote an article about our story; From the Pain a Passion. We conducted many research studies, which led to major scientific epidemiological results. We proved that carcinogenic substances trapped in airborne particulates could traverse the blood barrier of pregnant women and affect the developing fetus in the womb environment. Dr. Frederica Perera, a leading scientist at Columbia University, was one of the first recipients of a grant from The Colette Chuda Environmental Fund.
The science mounted. In cities like Krakow, Poland, evidence revealed that environmental exposures to vulnerable sub-populations put children's health at risk. Other parts of the world benefited from the early epidemiological studies we conducted. We later proved that children who suffer from early exposures have a greater predisposition to disease; however, the onset of certain childhood cancers could be prevented, if the exposures to harmful chemicals could be avoided. Knowing that the science was critical to, if not the most important motivation for, establishing a grassroots movement, we decided to build an impossible dream. We would pull together a coalition of groups and committed citizens who would rally behind this basic principle: By educating parents, we would protect children and, hopefully, eliminate the use of harmful chemicals in the environment.
Healthy Child Healthy World evolved from the founding of The Children's Health Environmental Coalition (CHEC) which was born in the summer of 1992, at the Snake River Ranch in Jackson Hole, Wyoming. A very dear friend, Elizabeth Sword, had offered her family's ranch retreat as a meeting place. It was the perfect destination and location, set beneath the Grand Tetons, a pristine and inspirational gift.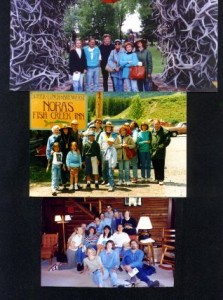 Top Margaret McNally, Phil Newmark, Al Myerhoff (Senior Attorney NRDC), Marcia Brandwynne, Lenore Breslauer, Nancy Chuda
Middle- Helen Hauge Resor, Nancy Chuda, James Chuda, Al Myerhoff, Marcia Brandwynne, Mary Gant, Lenore Breslauer, Phil Newmark, Elizabeth Sword, and Dr. Brad Edgerton, Lauren Edgerton, Bayliss Sword, Ford Edgerton and Morgan Sword
Bottom-Carrie Cook Platt, Elizabeth Hauge Sword, Jay Feldman (Beyond Pesticides)  Olivia Newton-John, Nancy Chuda, James Chuda, Tessa Hill (Kids for Saving Earth), Nancy Greenspan, Dr. Harvey Karp, Betty Ann  Gaynor, Dr. Stanley Greenspan, Mary Gant.
The following year, 1993, the National Academy of Science (NAS) presented findings on how pesticides were affecting the diets of infants and children. Dr. Philip Landrigan, who is referred to as the "Father of the Children's Environmental Health Movement," and who is a leading pediatrician and scientist based at the Mount Sinai School of Medicine in New York, joined us at the ranch for our second annual meeting to reveal the findings.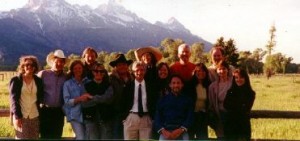 Josie and Jay Feldman (Beyond Pesticides), Elizabeth Hauge Sword, John Wargo, Olivia Newton-John, James Chuda, Nancy Chuda, Dr.Philip Landrigan  Robert Loeb, Mary Gant,  Dr.Harvey Karp, Tessa Hill (KSE), Sandra Schubert JD
Jim and I had invited guests, who brought tremendous experience and expertise in pediatrics, science, media, and government. Dr. Harvey Karp and  Dr. Philip Landrigan, two of our nations leading pediatricians helped to structure our core mission which today celebrates over two decades of progress.

Those early meetings under the magnificent Tetons would later become the foundation from which we would create Healthy Child Healthy World's mission and goals. Together, we carved a vision for the future. Each individual dedicated their time and resources.
Today, our founding Board members comprise an Honorary Board of great distinction.
James Chuda, Olivia Newton-John, Tessa Hill, Nancy Chuda, Karina Hill, Dr. Philip Landrigan, Dr.Harvey Karp, Robert Loeb, Nancy Greenspan, Elizabeth Sword, Nina Montee Karp, and Mary Gant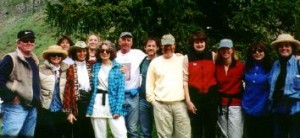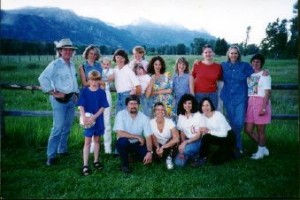 Twenty four years have passed since those historic meetings.
Top-James Chuda, Carrie Cook Platt, and Charlotte, Elizabeth Sword, Bayliss Sword, Payson Sword, Nancy Chuda, Deb Callahan, Nancy Greenspan, Margaret McNally, Sharon Newsome. Morgan Sword, Jay Feldman, Olivia Newton-John, Terri Swearingen, Betty Ann Gaynor
Some of our earlier accomplishments include: an educational video starring Olivia Newton-John and Kelly Preston, Not Under My Roof: Protecting Your Baby from Toxins in the Home.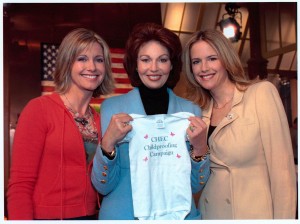 The passage of state and federal legislation protective of children's health; working with the Clinton administration to establish an executive order that would protect children from harm in public places; and the launch of a national educational childproofing campaign, reaching more than 80 million people with our message of inspiring parents to protect children from harmful chemicals.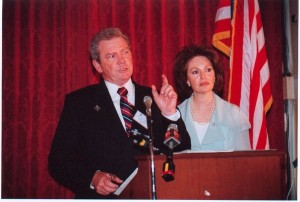 James and Nancy Chuda speaking at the National Environnmental Childproofing Campaign in Washington DC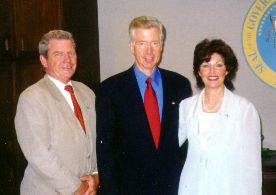 James and Nancy Chuda with Ex California Governor Gray Davis after the signing of the Healthy Schools Act in 2000
President William Jefferson Clinton welcomes Heather and her parent Margaret and Bill in the White House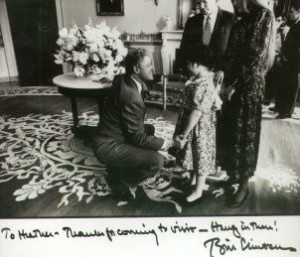 Heather, one of Colette's  classmates had also been stricken with Leukemia at the same time she was diagnosed in 1990. Thanks to founding board member Carrie Cook Platt, who had received 5 national Emmy's and was in midst of producing a children's special from the White House… Heather and her parents Margaret and Bill got to meet with the President Bill Clinton.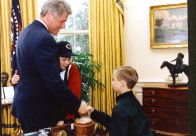 And on another occasion I got a call from a distressed mother of two boys living in Omaha Nebraska. Julie Larm said her oldest son Kevin was diagnosed with acute lymphocytic leukemia She was desperate. They were in Washington DC hoping to meet with the president but Kevin became seriously ill and was hospitalized to undergo tests. She suspected his cancer might have been due to electromagnetic field radiation (EMF's). When President Clinton heard about Kevin's ordeal he placed a phone call to the young man and promised that when he was feeling better he would be welcomed for a visit. Within a few days,  Kevin recovered from his weakened immune system's inability to fight the flu and he and his younger brother headed straight to the White House for an experience they would never forget.
Senator Barbara Boxer with Nancy and James Chuda and Dr. Harvey Karp celebrate the launch of The Childrens Environmental Protection Act CEPA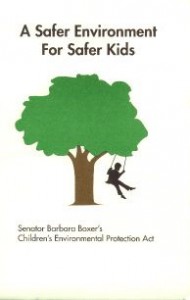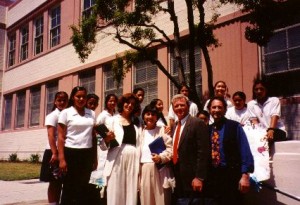 In 1995, Senator Barbara Boxer introduced legislation in the United States Senate in memory of our daughter, Colette Chuda. The Children's Environmental Protection Act (CEPA) was the first amendment to safeguard children from toxins in the environment. This vanguard legislation contains language inclusive of children and their unique vulnerabilities. It was later amended onto other bills to support children's disproportionate physiological needs, as well as other vulnerable subsets of the population, such as pregnant women and the elderly. As parents who lost a child to cancer in 1991, we believe that Colette would have survived had we had the knowledge and tools Healthy Child Healthy World provides parents today.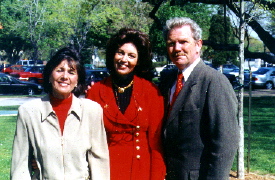 Looking back, I would say one of our greatest accomplishments happened in 1998, when the Department of Housing and Urban Development (HUD) gave us a grant to build one of the most resourceful tools. The Health eHouse became the very first, virtual, Internet, interactive medium — a one-stop, cyber shop — that gave people the opportunity to explore, room by room, using a mouse or a keypad, to learn safer alternatives to protect children in their homes. We did this with with additional support from the Centers for Disease Control (CDC) and the Agency for Toxic Substances and Disease Registry ATSDR).
(James and Nancy Chuda with Robert Amler (Director of ATSDR) and his daughter Meghan 1998)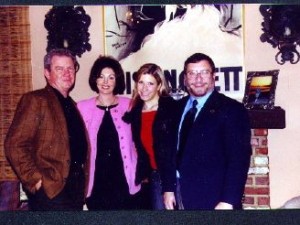 And years later, we were one of very few charities able to partner with with the world's most valuable repository on human health. WebMD gave us the ability to reach a world wide audience with even greater technological tools to educate parents about safer alternatives in the home environment.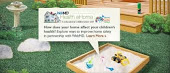 Healthy Child Healthy World's Health eHouse.
We translated hard-to-comprehend scientific data by making it consumer friendly. At that time, most people did not understand, for example, what the term "VOC" (volatile organic compounds) meant, though it is a term that is well understood today. People now know that many products contain harmful ingredients that, when used, create a vapor trail we refer to as off-gassing. We helped people understand the danger of exposure to certain chemicals that were found in everyday products used in homes. These products contain inert ingredients, some of which have been proven in laboratory studies to cause cancer. Yet, US trademark law does not require inert ingredients to be revealed on product packaging, even though they may be carcinogenic.
Today, parents enter the marketplace wanting to do the right thing — intuitively knowing that some products are safer than others. Thanks to companies like Seventh Generation,  and a host of many other Trusted Partners, we are able to provide information about a multitude of consumer products that are safe to use. By educating parents to become smart shoppers — to use the power of choice by purchasing cleaner, greener, and safer products, we were able to burst that bubble of trademark protection.

More importantly, focus studies on children's welfare reveal parents' primary concern is health and safety. At a time when our nation's economy dictates cutting back, for some that just might mean less money spent on recreational pleasures and toys. But for most parents, ensuring health care for the entire family is the only insurance they have to protect their children. The sad news is that our children's health is suffering due to the inexplicable amounts of toxic chemicals that are released into the environment.Only half of all chemicals have undergone toxicity testing, but less than 1 in 5 have been tested for possible toxicity to children.
In the mid-eighties, we were all living in a "toxic soup." Few knew about the harmful dangers of living with and around a perversity of chemicals — and fewer knew about the compounded exposures due to their cumulative effects. It took time for scientific studies to reveal that chemicals are now known to be a major cause of cancer, and it took even more time to prove that heredity may predispose cells and DNA to cancer.
Over the course of this last decade our work expanded exponentially. Healthy Child Healthy World reached millions having launched the new Health eHome program in partnership with WebMD; we collaborated on the groundbreaking National Children's Study that collected health and environmental data on over 100,000 children in the U.S. We participated an partially funded the Autism Discovery Project at the Mount Sinai School of Medicine; and in collaboration with many other national environmental organizations, we added our voice to promoting and advocating for the Kid-Safe Chemicals Act, federal legislation designed to protect children from risky chemicals in everyday products by making manufacturers prove products are safe before they land on store shelves.
We are exceptionally proud that our nation's First Lady, Michelle Obama has chosen Healthy Child Healthy World as her favorite cause.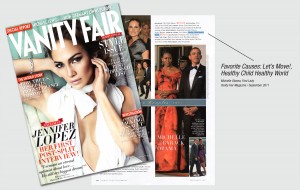 Healthy Child Healthy World's book, Creating A Cleaner, Greener, Safer Home helped parents find safer alternatives to better protect themselves and their families.

This year, we invite you to join us to congratulate Shanna Swan who will receive the award as our 2014 recipient at the Mom on a Mission Gala Event which will be held on October 29th at the London Hotel in Los Angeles.

Also, Nina Montee Karp, a founding board member will be presented with Healthy Child Healthy World's Environmental Lifetime Achievement Award for her dedication, inspiration and philanthropy. Thanks to her efforts, Healthy Child will be expanding its knowledge base by partnering with one of our nation's preeminent environmental advocacy organizations, Environmental Working Group.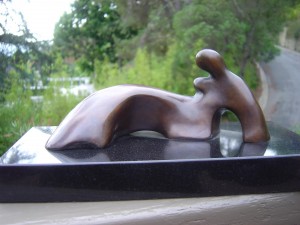 Nina Montee Karp and Dr. Harvey Karp 
Mother and Child bronze by James Chuda
The Chudas 1992 Washington DC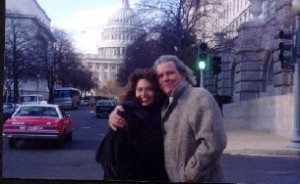 I wanted to share our story with the hope that together we can build a stronger alliance to protect children's health. We want to partner with you — moms and dads who share our passion and commitment to protect children's health and continue to  build a solid even more robust collaborative platform for change.
Jim and I are very proud of the organization we founded in Colette's memory.
Cody Wyoming 1988, Nancy, Colette and Colette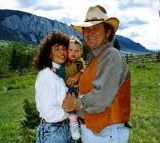 Today, Healthy Child Healthy World has become one of the most respected children's charities thanks to the leadership, dedication and tireless efforts of our founding members, board of directors, and donor support, we have been able to reach a much larger audience, build a consensus amongst constituents, create partnerships that are aligned with our mission and goals.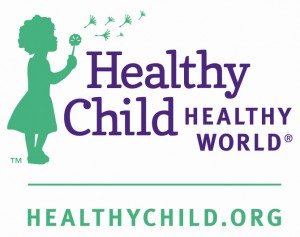 Healthy Child Healthy World exists because of Colette and for the millions of children we protect everyday. And a day does not pass without Colette's inspiring words, "I love you a million, kabillion, bigger than God, bigger than the Universe two times!" Many years ago we decided we weren't going to let our personal tragedy, losing our only child to a non-hereditary cancer, beat us. Instead, with faith and conviction we decided to set some winning goals — to help others — so that other children would not have to experience our daughter's fate.