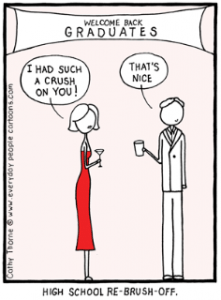 By Bernadette Bowman, Comedienne and LuxEco Advocate who writes the LIFE GOES RETROGRADE series.
A streak of sheer panic went through my body this morning when I realized that in a mere three weeks, I'll be schlepping south to San Diego to attend my thirtieth high school reunion.
Rock on, Helix High School Class of '80!!
I'm happy to say that the aforementioned panic has less to do with the reunion itself, and more to do with the fact I still haven't found the perfect kicky shoes for the event.
And you must pardon me for any typos in this installment since I am writing this as I hang upside down in Downward Facing Dog and stay in plank pose for the next three weeks since, as any chick over thirty-five who's been to any (or all) of her high school reunions knows:
It's all about the upper arms.
And I know I'm not alone in my fashion due diligence.
At the twentieth reunion, ninety percent of the Class of '80 women donned sleeveless LBDs (Little Black Dresses), flexing as they walked through the buffet line and reached for the rice pilaf, and of course, doing the "hand on the hip" pose in every photo.  You know the one:
Hi, my arms really are three feet long and have no extra padding on them. See???
(And I know that I can't be the only person who's invested in a Shake Weight with a 20% off Bed, Bath & Beyond coupon)
I have to admit it: I love the idea of high school reunions. And since honesty is my policy in this column, I will tell you why.
I'm nosy.
Period.
I am more than willing to spring for the eighty bucks admission fee and the new dress and shoes just so can see how everyone looks thirty years after our graduation.
I am also fascinated by the dynamics of these reunions and how the collective energy of each event changes with every decade that zips by.
At our ten-year reunion, it was all about everyone still feeling the need to prove his or herself, and to be obviously competitive. And I was not above this; I had the hottest date that night, hands down. I brought my gorgeous baby brother who blossomed into a Sting look-alike so no one knew who he was, since the last time they saw him at one of the football games in 1979, he looked like "Ernie" on My Three Sons. See? I can admit to my competitive edge that evening.  He ended up ditching me to talk grown up to grown up to all of the guys he idolized when he was their half-time groupie. Thanks, bro.
Our twentieth reunion was the intriguing combination of a lot less competition and a lot less hair.
It was so wild to see that many of the cute and foxy boys (by Seventies standards) we mooned and swooned over as cow-eyed teenage girls had morphed into paunchy-ish, bald older guys who, twenty years after slow dancing with them to Babe by Styx, looked more like Fred Flintstone than Andy Gibb.
But ya know what? Everyone left their competitive and judgments at the sign-in table and just had a great time seeing, and hopefully recognizing, each other. There was very little pretense and a whole lot of "I still can't believe that it's you!" reactions, which is a great "gift with purchase" if you were a very late bloomer.
And boy, was I ever.
I love to tell people that I had this really "gawkward" period – from about age fourteen until around, oh, thirty-seven-ish. I definitely bloomed late, but I am glad I did. I would have hated to celebrate my big Hey Day and most important life achievements back when wearing polyester and Love's Baby Soft were the things that deemed you as "cool."
One of the highlights of my twentieth reunion (which was a blessing since my date – who was not my brother this time – was being hit on – and hitting back – by one of my least favorite high school bimbos) was when Sandra from my tenth grade first period study hall came right up to me and said, "I remember how in love you were with Patrick Kinsella. I hope to God that he gets to see you tonight and is eating his heart out!"
WOW.
That just about validated me for the rest of my life. And this was three months before I finally got the boob job I had wanted since the twelfth grade when I appeared in the senior production of Grease, equipped with a fabulous set of falsies that forever changed my life.
Two more reasons I cannot wait for my thirtieth!
Probably the most popular question regarding my thirtieth reunion is:
"Are you taking James?"
My quick-as-lightening response?
"Love means never guilting someone into attending your high school reunion."
(Even if you need a designated driver – call a cab)
As much as I'd love to show off my hot, Grammy-winner boyfriend of seven years who is not only dreamy-tall but who also has a full head of hair and a gorgeous face, I do not understand why anyone would choose to inflict a high school reunion on the one they love. It ends up feeling like torture if your significant other doesn't know any of the players and you have to use a flannel board to explain who's who (and why you're avoiding them).
So, my hot Libra is off the hook for this one, and I know he'll thank me later for my generosity … and for not having to meet the boys who broke my teenage heart. And kick their ass.
So many people have been ragging on the dangers of being on Facebook, but I truly believe that because of Facebook (which I often refer to as Satan's Playground when it just gets to be too much and makes me feel like I'm back in, ironically, high school), most of us are really looking forward to reconnecting with our high school friends who may not have been our friends back when we were falling asleep as a drooling group in Biology right after lunch.
I know that there are more than a few new people in my life now whom, for whatever reason – locker location, different social status – I never really got to know back in high school.  These "new" friends have proven to be incredibly supportive pals to me since we found each other on Facebook, and we seem to always be there to send out a compassionate or humorous comment on any bad or challenging news going we see posted in our status updates.
I think the bottom line for most of us in our late-ish forties who have the guts to show up at our thirtieth reunion is that we honestly do not feel the need to prove anything except that we're just happy to still be here. On Earth. Breathing. Laughing. And looking fabulous in our age and wisdom… and kicky shoes.
James just sent me an email…"Are you sure you don't want me to go with you to the reunion?"
(Isn't he cute?)
I assure him that he's still off the hook but have promised that I'll wait til I get home to slow dance with him to Still by the Commodores.
Promise.
All contents copyright © Life Goes Retrograde by Bernadette Bowman. All rights reserved. No part of this column or the related blogs may be reproduced or transmitted in any form, by any means (electronic, photocopying, recording, or otherwise) without the prior written permission of the author.