By Nancy Chuda founder and Editor in Chief of LuxEcoLiving and co-founder of Healthy Child Healthy World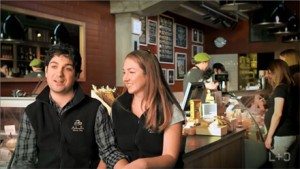 "We've been asked many times, "Why a Cheese Shop?" and the answer is simple. After putting ourselves through cheese bootcamps, running a cheese shop out of our house, attending cheese conferences, interning for French affineur Herve Mons, journeying through Europe, and eating our way through thousands of tasty cheese morsels, we honed in on our true passions. Then, over a bottle of wine one evening, we realized that working behind a cheese case would allow us to do them all: eat great cheese, talk to whomever would listen, travel the world and spend more time together."
In my search for the best cheese in the world I discovered Antonelli's, a fabulous shop in Austin. I liked the energy of the young couple, Kendall and John Antonelli, who were devoted to each other and their love of cheese.
I was determined to put Austin on my map for LuxEcoLiving's Best Cheese in the World series. Once you taste Antonelli's Midnight Chevre form CKC Farms in Blanco Texas you will go crazy! Chasing goats around can be tricky and getting them to yield just the right amount of milk is a process in and of itself. But to age the milk and get a taste that is so delectable that each and every morsel just floats across your tongue like clouds in sky. This cheese sample was so delicious I didn't want to share it. Not one bite.
| | |
| --- | --- |
| | Backed by over 160 years of cheesemaking, Wisconsin is the only state that requires a licensed cheesemaker to monitor every pound of cheese made in the state. |
I followed the Antonelli's path of devotion to cheese and discovered that their passion is every much as formidable as their internship with 
Herve Mons one of the greatest fromagers in France.
Their Birdville Reserve Eagle Mountain Farmhouse, a cow milk variety from Granbury Texas had such a rich flavor. I tried adding a few of Kendall's pairing suggestions. The Blackberry Jam Confituras is exceptional as a spread under a slice of the cheese mounted on a slice of French bread thinly cut. Wow and double wow for the Blue Heron Farm Cajeta (Goat Mik Caramel). That container had a rich caramel sauce which was so habit forming even after the cheese samples were gone. And now it's gone.

Sand Creek Farm is Cameron Texas provided Antonelli's with a wonderful fresh Colby,derived from raw cow milk, very firm and buttery to the taste. Delicious. I served up the last few morsels of cheese just the other day. I gazed down at my somewhat forlorn dog. Journey is a 17 month old lab rescue who just loves cheese. He was lying on his elevated bed, the heat of the summer was on his mind until he got a whiff then a taste of the Birdville Reserve. And that's about as close as he will ever get to catching a live one.