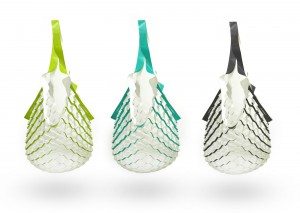 By: Leslie Harris, Interior Designer, Leslie Harris Interior Design and LuxEco Advocate
I've never given much thought to where billboards went after they are taken down but luckily a product design and manufacturing team called Artecnica created The Billboard Project with 3 great looking and sustainable products.  Impressed by Artecnica's Designing With Conscious program, Media Arts Lab (MAL) part of TBWA Advertising Agency, requested the designers to recycle their large format billboards.
The Stretch Bag, a clever die cut, no glue, no stitch shoulder bag is inspired by the strength and symmetry found in nature.  Made from 100% colorful advertising billboards which hold up to 33 lbs., comes flat and stretches into 3-D to form the biggest bag with the smallest amount of waste.
Sustainable cork cases lined with recycled billboards were inspired by the simplicity of traditional envelopes come in 3 sizes:  a wallet, a clutch and handbag.  Billboard Laptop Cases lined with neoprene were designed to provide a soft laptop cover and a portable work station.
Their web site: www.artecnicainc.com has an online store where you can purchase or find listings to local stores.