By: Joanna Bateman, LuxEco Editorial Assistant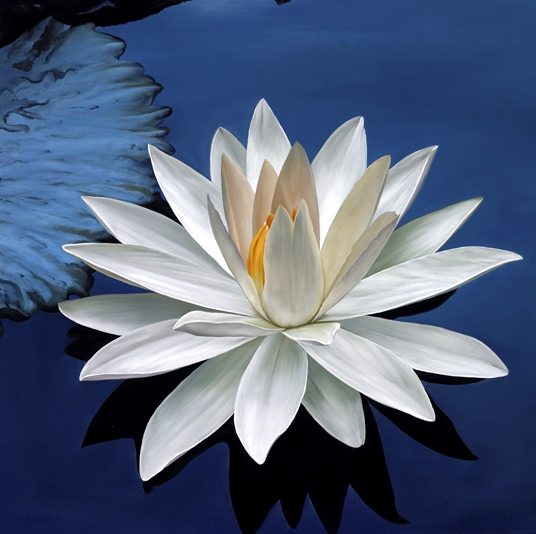 I woke up this morning to the roar of the 101 outside my bedroom window, quite a drastic difference from the crickets that hummed me gently to sleep in my yurt just one month before. That's right–yurt.  AKA a glorified ti-pi with three futons in it.  But wait, let me back up–   Ya see, I'm a mid-west girl who recently moved west to California to spread my wings and fly.   And if it weren't for this past August, I'd be one stressed-out-Sally in the big sea of crazy known as Los Angeles. I needed to ground myself so that I didn't float away in La La land. I needed Yoga camp!
A simple Google search led me to Ganga White's White Lotus Yoga Foundation and I enrolled in the Yoga Teacher Training immediately.  I drove up the PCH and arrived at the White Lotus house perched on the land that the Chumash Indians called Taklushmon–The Gathering Place. It. Is. Beautiful. It's utopia, it really is.  I thought my car had crashed on the drive up, and I had died and found heaven.
On the Saturday of my arrival I met 30 beautiful humans all excited to learn and soon be able to add "—yoga instructor" to our long list of possible job opportunities.   I thought I was coming to learn the postures, you know "downward dog" type stuff. But by about day three, my mind shifted and I realized that yoga is not what I thought it was. Yoga, translated, means to unite, to yolk.  And I spent the month of August uniting all that is truly me-my mind, body and soul–together as an individual, and together with a silk string in the web of life.  I became acutely aware of the interconnectedness of the universe. Ladies and Gentleman this happened in two weeks!! It was rad.
When you are given two weeks to do nothing but live in paradise, to not think about email or what's for dinner–When you wake up in the morning and look down on the clouds and up at the hawks circling gracefully overhead—it gives you time to experience life in a whole new way.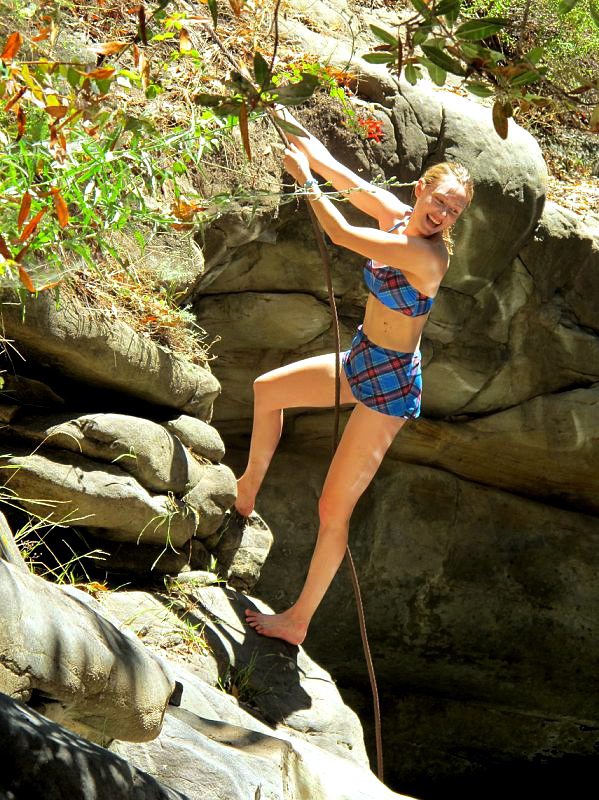 I woke one morning early, strapped on my shoes and hiked down to the waterfalls and followed the babbling brook as it rushed downstream.  As I skipped over the rocks, the birds were whistling their morning songs and I danced all the way to the swimming holes.  Carved naturally by the fallen boulders complete with a woven rope attached, I swung up to the biggest rock. I breathed in the air, I smiled and shook my head in disbelief.  "How did I get here?"
I was alone, and began taking off all my clothes, reminding myself of the only thing I really own.  Reminding Mother Earth of her Chumash children, the natives who once called this place home.  And I sat cross legged, pale skin glowing in the morning light.  I closed my eyes and let the breath of life rock me into meditation. Meditating not for enlightenment, meditating for enjoyment. I believe that enlightenment is as swift as lightning–bright and white hot, but gone the minute it is named.  I sat cradled by my Mother Earth and felt the sun bring heat to the day.
And then I swam.  Cool water bouncing and turning me around and around, curling my lips up toward the rising sun.  I can still hear my laughter- like a child surprised by the sprinkler for the first time.  Even my hair was dancing.  Everything about me was loud. I was soft.
And then I hiked up the mountain and learned about the history of yoga, cleansing techniques and an abundance of other healthy lessons of which I am sure to share at a future date. And by 9am it was time for our daily asana practice.  Then lunch and general yoga camp bonding and practice teaching time.  More lessons and group talks followed, and evenings were decorated with Kirtans, bonfires, and even a dance party.
Don't get me wrong, White Lotus did teach me how to teach yoga. I took pages of notes on the White Lotus Approach, which emphasizes the importance of alignment in the postures.  I learned modifications and the proper way to adjust people along with the ability to lead classes through a full body flow.  Sven Holcomb and Kent Bond broke down, in detail, every posture needed for any Flow class you would want to teach.  In fact Ganga White, the founder of WLF, is credited for introducing Iyengar Yoga to the greater Los Angeles area in 1976.  (Iyengar Yoga is known for strict attention to proper alignment.) Trust me, I know how to get down in downward dog!
By the end of my stay, at the final communal dinner, I looked down the long table and the smiling faces of those who had been mere strangers one week earlier, but were now members of my family. Looking back at it now, it doesn't seem real.  Was I dreaming?  Was this one of those weird dreams where you're with your family, but no one's face looks the way it does in real life?  The only proof I have that this is not the case, is the thread of emails that I continue to receive on a daily basis from these people. My lovely lovely people.
Y'all, I could go on and on…but the point is Yoga Camp –I mean my Yoga Teacher Training—changed me, it opened me to the earth, to my soul, to the spirits of those around me.  It made me know, without hesitation, that I want to teach this stuff–yoga, all parts of it. And my hope is that you will follow along with me, and join in the community.  Be a conduit.  Find inspiration in nature, in yoga, in you and share it with others anyway you can.
Thanks for reading, and remember—You're alive—smile about it!