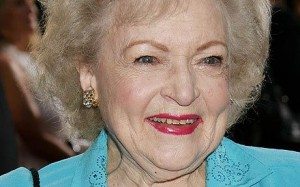 By Nancy Chuda, Founder of LuxEcoLiving.com
Betty White makes 88 look like a new-aged hippie whose secret is more than just getting good dietary fiber. She's on a roll… and it's not exactly a Kaiser.
For those of you who missed Betty White on last weekend's Saturday Night Live let me tell you that she has the recipe for youth. Facebook.
Take a post and spread it, wait till thumbs go up, aggregate all the likes, tell Lorne she has to host SNL and then go to bed with your "Frownies," and set your Tivo to record.
But if you're up for it, and most people were, they watched one of the most celebrated moments in television history unfold without a crease. Her skin is flawless!
There's Ugly Betty but this is the Betty everyone will long remember. Why? Because she can remember things that most of her audience was not born to witness. Yet.  Although I would guess that many Boomers put on their Snuggle Blankets to curl up, stay awake and watch Betty make historic ratings- more than the usual hipsters. And wait a minute… Jay-Z is no slouch except when his pants began to fall. Betty introducing him was better than any of televisions divine moments, Borg's feathers, Janet's costume failure, George Bush fainting, it was right on baby!
We are a pop culture without the need for pop tarts. I mean, really, does age really matter.
Really Seth you looked a little frumpy in that gray suit. And do you really need a teleprompter to tell you when to smile
You can take the vaudevillian out of comedy but you can't remake the real thing.
Betty's got the right genes. Really!!
At 88, God love her. She has it all…Looks, brains, humor and spirit.
The only thing Betty White doesn't have is an IPad.
Would someone please ask Lorne Michaels to bookmark her page so we can download every single hysterical sketch and Hulu and YouTube our Facebook friends again and again, again.
And for those who missed it… Betty was brilliant!
Watch her in action on Hulu