By Lorri Ballance Laird, Writer and LuxEcoLiving Advocate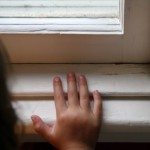 Since 1978, lead paint has been banned in the United States.  But even today, in 2012, the dangers of lead poisoning remain a reality for many children, especially for those living in older housing.  Now, for the first time in twenty years, a federal panel has recommended that the U.S. government lower the threshold for lead poisoning in children.
The panel, The Centers for Disease Control's Advisory Committee on Childhood Lead Poisoning (ACCLP), recommended that the reference level for lead poisoning be changed from 10 micrograms per deciliter of blood to 5 micrograms per deciliter.
Groups dedicated to protecting children's health have applauded the recommendation. "We feel strongly that this is moving us in the right direction as a country to finally eradicate this completely preventable disease," said Ruth Ann Norton, Executive Director of the Coalition to End Childhood Lead Poisoning. "In our opinion, there is no level of lead that is acceptable."
Dr. Philip J. Landrigan, Director of the Children's Environmental Health Center, said, "I think the decision by the CDC panel is overdue. Lead poisoning is a preventable disease, and we've known for years that lead is toxic to children's health."
Lead is extremely toxic, especially to young children, and can harm a child's brain, kidneys, bone marrow, and other body systems.  At high levels, lead can cause coma, convulsions, and death. But even at low levels, lead exposure can cause reduced intelligence and behavior difficulties, as well as impaired hearing and reduced stature, according to the National Academy of Sciences.
Children are most likely to be exposed to lead in paint used in older housing through contaminated dust and soil.  Children under six, as well as low-income and minority children, are most at risk for exposure, according to the CDC.  While the EPA has worked throughout the years to reduce the amount of lead in the environment, the CDC reports that 250,000 children in the United States have lead poisoning.  The new threshold would classify an additional 450,000 children as having lead poisoning in the United States.
While lead paint is the biggest threat for lead exposure, there still exist opportunities for lead exposure through a variety of consumer products.  While the Consumer Product Safety Commission has addressed lead contamination in toys, lunch boxes, mini-blinds, and playground equipment, and the FDA has virtually eliminated the use of lead solder in domestically canned food and beverages and has established strict standards concerning the amount of lead that can be allowed to leach from ceramic tableware, consumers still need to be vigilant.  Just last month Target recalled its Circo children's travel cases due to violation of the lead paint standard.  Additionally, a recent rash of lead poisoning in Indian children in the Boston area was linked to spices used in religious ceremonies to mark newborn infants.
To protect your family from lead exposure, take the following precautions:
Do not eat candies imported from Mexico.
Avoid using containers, cookware, or tableware to store or cook foods or liquids that are not shown to be lead free.
Use only cold water from the tap for drinking, cooking, and for making baby formula (Hot water is more likely to contain higher levels of lead. Most of the lead in household water usually comes from the plumbing in your house, not from the local water supply.)