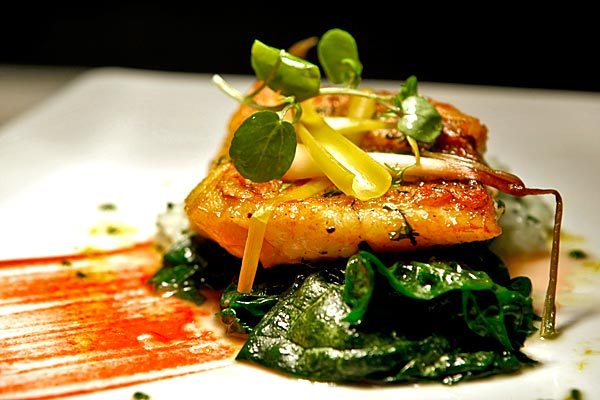 By Nancy Chuda founder and Editor in Chief of LuxEco Living and co-founder of Healthy Child Healthy World
Having just returned from Burgundy, France as guests of Benjamin and Frances Haas who have a magnificent farm house that they rent, it was hard not to miss Le Fromage and the fine Pommard and Montrachet wines. The Canard du Jour, Foie Gras, Steak Au Poivre, not to forget the Chocolate Souffle or Profiterole, or the Moules and dipping the french bread repeatedly into the sauce. All were delightful experiences. With the rising sun came the french pressed coffee, morning croissant and omelette. All of these delicious treats were just a memory, a mere waistline ago.
Once back on American soil, reality set in as did the yearning for simple food. Nothing to0 fancy or saucy. Just home grown and fresh. There is nothing better tasting than that. However, a lot depends on how it is grown, when it is used, and the method of preparation which enables the taste of the food itself to become the "star."
Speaking of stars, today we are inundated with celebrity chefs, many who claim proprietary rights over their dish du jour. There is an frustrating sense of ego that accompanies the egg. "Oh, just look at it! This is my recipe!" I'm not too fond of  chefs who rant and rave madly around a studio kitchen set claiming their dish is the ONLY Eureka.
Jacques Pépin recently swung by Charlie Rose to discuss his new cookbook, Essential Pépin and talked about how America has changed since he came to the states in 1959. When he first arrived, one couldn't buy shallots or leeks at the store, and now he says "supermarkets have never been as beautiful as they are today in America." He does think some people take it too far, though. Said Pépin, "This carrot was born on the 7th of May, her name is Hilda… we can get exaggerated."
As a french master chef Pépin along with his earliest mentor, Julia Child brought more to the American table than crusty french bread. Together they taught us techniques and helped us learn the art of simplistic French recipes and how to prepare food well.
Not just well. Delectable. Immeasurable are the tastes from two of my heroes. And yes I have found a third!
Nestled in the glorious green hills dotted with California live oaks in the little village of Solvang, Bradley Ogden, a Midwesterner reigns at Root 246 (a jewel in the valley of the Danes). In fact, he's the reason why Solvang will be added to the map of what I call, The Best in the West Culinary Finds.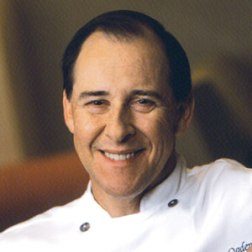 The restaurant itself is a milestone in terms of decor. No little ticky tacky anythings to be bought or sold. Not even a beeswax candle! So charming is this mix of eclectic, the high back white wing chairs in the bar offset the marvelous ambiance of this special place to dine. Not just dine but to savor.
Located in the Hotel Corque (the former Royal Scandinavian Inn) Root 246  is owned by the Chumash Indians but Bradley Ogden's menu boasts as one of, if not the best American restaurants in the country.
Bradley is a true artist when it comes to not only the preparation and presentation, but he is rooted in what he calls his essential ingredients: "Locally grown and organic."
"Whether it's wild asparagus from Santa Ynez, or fresh spiny lobsters from Santa Barbara, Root 246 is proud to serve our guests the finest produce and proteins the region has to offer." That includes products from: Kanaloa Seafoods, Santa Monica Seafood, Finley Farms, Babe Farms, Cowgirl Creamery, Hobbs, and Santa Barbara Olive Company.
Bradley arrived in California in the early '80s straight from the American Restaurant in Kansas City, Mo., as executive chef at San Francisco's then-new and very LuxEco Campton Place Hotel. He brought something new: real American cooking, not the traditional French and Italian that had for so long dominated American fine dining.
He later opened his flagship Lark Creek Inn in Marin County, One Market in San Francisco and several more restaurants, including Arterra in Del Mar. In 2003, he caught the Vegas bug and opened Bradley Ogden at Caesars Palace, still one of the best restaurants on the Strip.
But besides all the hustle and bustle of major city life where people's palates are as fickle as their neighbor's best new restaurant pick, Bradley decided to come home to a town where not just Americans like to wine and dine. And he certainly took chances in landing his roots in a place where the Aebelskiver rules.
Bring it on! Love that American food.
We were treated to a tasting menu which consisted of ten equally celebrated courses. My friends, the Hamiltons, Marcy and Strath, both superb film producers and distributor's, (check out their newly released DVD, Smitty) and total  "foodie aficionados" couldn't say enough. Great guffaws were uttered between courses beginning with the first. A delightfully light cheese souffle raised in perfect form without its porcelain carafe floated gently on a sea of a reduced white cream sauce with an essence of the glorious Cowgirl Creamery blue cheese from which it was created. The combination of the souffle where the cheese literally sticks to memory yet, is dissolved within seconds and makes one beckon for another… or at least the remains of which their were none.
Second came the oysters floating on ice in their shells. The simple shallot mignonette brought us to bargain then beg over the last one. There were five in total and only  four of us.
The salad courses consisted of a hearts of baby romaine lettuce of course from Finley Farms, where else? And picked that morning no doubt. Anything that topples over those fresh baby green leaves and, in this case a divine light, yet luxurious vinaigrette with shaved parmesan was but an appetizer next to the warmed spinach sister of a salad whose dressing was so delicious and most likely derived from Santa Ynez olive oil.
Some of the finest olive oils pressed come from this valley. In fact, Olive Hill Farm is one of my favorite sources.
Seafood is a luxury. Especially because we are inefficient as stewards of our oceans and negligent about the catch. Don't get me started about the Japanese and sushi or shark fin soup, a delicacy which has caused international controversy that has led to a ban.
But let's dine American and celebrate a seared ocean-raised scallop. Just one per person. Here is where Bradley deserves what the James Beard Foundation has already bequeathed him: Best Chef California. So beautiful was his presentation of this single scallop adorned with a sweet potato glaze which just melted into the morsel of flesh.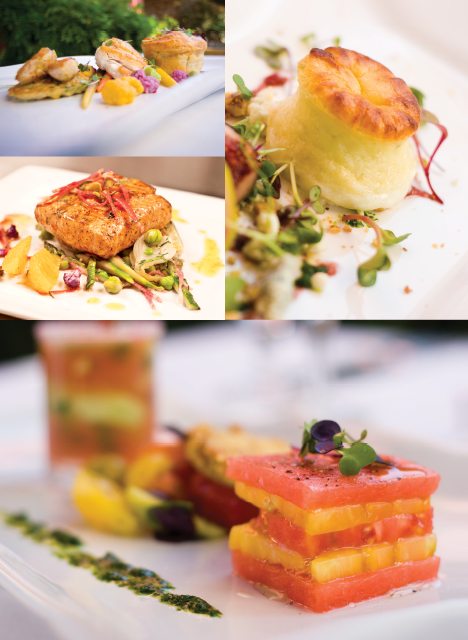 Rachel, our kind and informative waitress, offered something rare. Patience. Knowing that a tasting menu requires more than just a cooperative stomach and a curiosity for fine dining, she was exquisite in her manners and style.
Noticing the Sunstone Vineyards 2009 Merlot had been brought (a gift from Bion) she swiftly took the bottle and had it decanted in a way worthy of its reputation. One of the best red wines grown in this region, Sunstone, a spectacular vineyard with an on-sight family chateau that was built stone by stone all imported from a quarry in France. This magnificent wine reminiscent of the Pommard wines we had in Baume was the perfect compliment for the courses to follow.
Pork can sometimes be overwhelming for a white meat. Here comes the exception to the rule. Bradley cuts thin to thinner strips of the meat in equal proportions and serves it over a medley of vegetables, some crisper than others in an au jus that is light yet reserved with all the thunderous taste of pork. Where other chefs rely on sliders, meats prepared on flat breads or rolls, this was a succulent change without the carbs. Just delicious.
The Merlot was actually perfectly pared when the signature baked chicken smothered on top of mashed potatoes arrived. Light and succulent, yet more desirable than its American counterpart when fried. This dish melted in our mouths and caused a serious discussion about why Americans are so overweight. "Processed foods!" We all exclaimed. And added,  when you think of all the chicken recipes that have become  franchised adding to our nations cholesterol debt… it makes you wonder what happened to the word, baked. Certainly a healthier choice.
When it came to deserts Rachel prepared us. "Our deserts are  exceptional here at Root 246." Four gorgeous and yet small white ramekins containing one of Bradley's signature deserts, Butterscotch Brulee appeared followed by a tray of small beignets (classic American style doughnuts) with dipping sauces to crave for an eternity.
For me,  dining at Root 246 was one of the most exciting and memorable moments of my life. Food is such a luxury and real food is becoming scarce.
The moment I will treasure most was getting to meet the man whose devotion to excellence, a true sovereign for the art of fine American dining, Bradley Ogden himself stepped away from his kitchen to welcome us home. Now that's an American Dream worth dining for.
Editor's Notes
An excellent cookbook, Holiday Dinners with Bradley Ogden (Running Press 2011)
Root 246
420 Alisal Road, Solvang
Price Point
Dinner starters, $11 to $21; main courses, $23 to $45; dessert, $4 to $11. Lunch starters, $9 to $12; main courses, $12 to $20. Bar menu, $4 to $15. Corkage fee, $20.
Details
Open for dinner Wednesday to Sunday from 5 to 10 p.m.; bar menu only on Monday and Tuesday from 4 p.m., and for lunch on Saturday and Sunday from 10:30 a.m. to 2 p.m. Full bar. Street and lot parking.