There's a new hair trend sweeping across salons that's sexy, earthy, and may actually be easier on your pocket book. It's called ombre hair.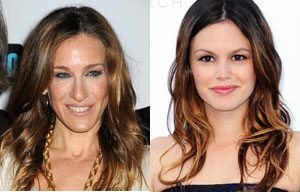 Ombre hair, which in French means shaded or graduated in tone, is a new Hollywood hair trend. The look involves darker roots which gradually become lighter as you go down the hair; giving a natural, sun-kissed look.
Ombre hair has become a huge celebrity hair trend among Hollywood's hottest actresses and fashionistas. Celebrities from Sarah Jessica Parker to Rachel Bilson have been seen with the beachy hair trend. The ombre hair look is also practical for women who still want to get their hair done, but don't necessarily want to spend the time or cash to go to the salon every 4-6 weeks to get touch-ups. This look affords women more time between salon visits due to its natural and low maintenance style.
The dark to light effect is created by a French hair technique called balayage. With balayage the highlights are painted straight on to the hair with a brush, which give a more natural sun-bleached look; instead of the conventional foiling method used for highlights which often leave a line of demarcation.
Ombre hair is not only a hair trend in celebrity circles, but has been mimicked from the fashion runways. The graduated look has been seen in many designers' collections and was translated into the hair industry by hair stylists searching for a new look.
So if you've been looking for a new, easy going hair style without breaking the bank, give ombre hair a try!