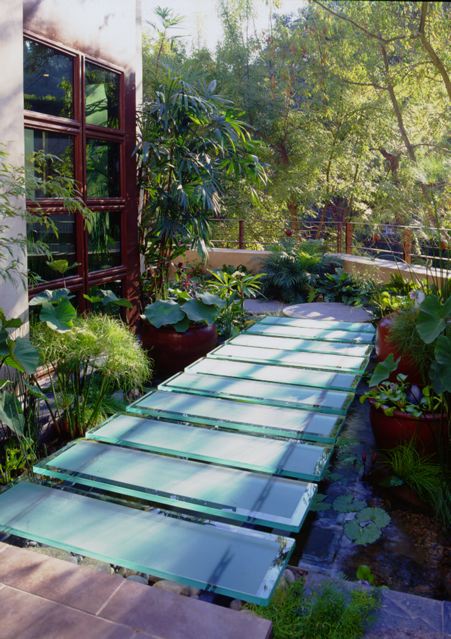 "The sound of water is so   relaxing," says Peter Logan of Peter Logan Designs in Tujunga California.  "And the water garden is a low maintenance, ecologically balanced system requiring no toxic chemicals.  It let's Mother Nature do the work."
Working with nature, in all her innate balance and glory, was the spirit in which Peter Logan designed the koi pond landscaping and walkway to the Green Home under the H, created and built by environmentalists James and Nancy Chuda.
The drenched greens of the lily pads and big waxy leaves of the foliage is punched up by the bright colors of the seasonally blooming flowers.  The rich yet lightly symphonic babbling sounds of water delights the ears and soothes the souls as it playfully trickling from large Asian unglazed earthen pots.
This lush and seemingly magical landscaping frames a translucent glass walkway that was built over a koi  pond, teaming with life, and leads up to the Green Home's entrance.  Hopping from one paver to the next, is slightly reminiscent of the laying the large piano key's in the Tom Hank's movie, "Big."  It is certainly is as fun.
But like most features in the Green Home, eco-friendly function matches beautiful and unique style one for one.  Water flowing from the three large earthen pots are more than just a lovely accesory, they are actually part of an intricate water filtration system. Gurgling from the pots and into a moss and rock-lined stream, fresh clear water is delivered to the koi pond.  "The [Green Home] pond also features a newly patented skimmer design that is the most effective in the business," adds Logan.  "And what you cannot see is the surrounding state-of-the-art subsurface drip irrigation system that reduces water consumption by about 30%"
With over 25 years experience designing waterfalls, sustainable ponds, boulder pools and spas, he says "The water garden is the most cost-effective upgrade you can make to your home.  It's a pond system that provides crystal clear water, good for small to medium koi fish, child safe, mosquito free and most of all relaxing."