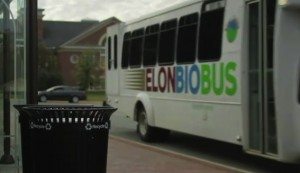 Intro By Bethany Colson, Managing Editor of LuxEco Living
Life is often full of surprises and the synchronicity of interconnected people and experiences.  This happened for LuxEco when a bright college student, Molly Cimikoski, traveled from the Elon University campus in North Carolina to the sunny Green Home Under the H of the iconic Hollywood sign to fulfill her summer internship credits.  With a group of 45 students in Los Angeles learning PR, production and communications Hollywood style in various entertainment companies, Program Director Jay McMerty and Elon President Dr. Leo Lambert decided that they should do a couple site visits.  With a packed schedule, they picked only two: Fox News and LuxEco Living.
Clearly, these two instituions offered a very different matrix of work environments, publication styles and editorial content direction.  The juxtaposition certainly presented a clear contrast between traditional and new media.  James and Nancy Chuda, our team of Editorial and Marketing Assistants and myself greeted our visitors at the door.  After a tour of the Green Home and a brief introduction of  LuxEco's mission of promoting a sustainable and healthy lifestyle, Dr. Lambert inspired us with stories of Elon's same commitment.  Now, we all knew we were all on the same recycled hemp, soy-based inked page.
"You are inspiring great change at your university with students, faculty and community members alike!" we all said in unison, "LuxEco readers have to know about this!" Dr. Lambert said he would put me in touch with Elaine Durr, the Sustainability Coordinator.  Thrilled to meet her, I said, "Yes! But we are a contributor-driven community… we want to know YOU and hear your stories directly.  It's the mission, the people behind it and the personal connection that will inspire the movement!"
And so it is! Our first partnership with an educational institution that will help to galvanize a Green (R)evolution with education and community.  It is our great honor and privilege to know pioneering leaders in the field of education and sustainability and LuxEco will continue to provide a forum for their initiatives to reach an expanding communities.  Thank you Dr. Lambert for your amazing work!
[youtube]kGo95IDun_A[/youtube]
By Elaine Durr, Sustainability Coordinator of Elon University and LuxEco Advocate
Elon University's mission statement says, in part, that "We integrate learning across the disciplines and put knowledge into practice, thus preparing students to be global citizens and informed leaders motivated by concern for the common good." Elon believes that one of the most pressing issues facing students, indeed all citizens, today is global environmental change. In order to be true to that mission statement, it is imperative that Elon teach its students about environmental change, human interactions with the earth and how they can be good stewards of this planet so that the mission of producing "global citizens and informed leaders motivated by the common good" is accomplished.
This belief and vital mission is what led Elon University President Leo Lambert to create an Environmental Advisory Council in 2004 with faculty, staff and student representation. The Council was tasked with researching environmental sustainability, assessing Elon's current practices and identifying additional opportunities to expand the University's sustainability efforts. The Council identified several campus initiatives already in‐place that were reducing Elon's impact on the environment such as recycling, using stormwater for irrigation and purchasing Energy Star appliances and products. The Council also made recommendations in a number of categories on ways Elon could expand sustainability efforts on campus. These recommendations became the basis of Elon's Sustainability Master Plan (2006-2007).
Elon University is committed to sustainability and to serving as a positive example through sustainable operations and education. The University is pursuing this mission to become more sustainable by focusing on three areas: reducing greenhouse gas emissions, conserving resources and educating the community.
Reducing greenhouse gas emissions is essential to Elon's goal of becoming a carbon neutral university by 2037 as identified in the Sustainability Master Plan. A number of initiatives are underway in this area, such as improving the energy efficiency of existing buildings, constructing LEED certified buildings, using electric and hybrid vehicles and installing a geothermal system to heat and cool 5 residence halls.
Conserving resources coincides with the previous area in that aspects of it will also contribute to Elon's carbon neutrality goal. The University purchases environmentally preferable products, such as Energy Star products, materials with recycled content, low-emitting materials and regional products. Elon has a comprehensive recycling program and composts food and yard waste. In addition, the primary irrigation system on campus is supplied with reclaimed stormwater.
Educating the community about the importance of global environmental change and imparting a sense of responsibility to live in a more sustainable manner is vital to Elon's sustainability efforts. The student peer education program for sustainability (the Eco-Reps) and the Sustainability Faculty Scholars program are two examples of Elon's commitment to sustainability education. Every positive action makes a difference and becomes part of a cumulative impact. We all need to do our part to contribute to a sustainable future.
Look for subsequent posts from Elon University, which will feature student work and provide more details on some of Elon's sustainability initiatives.