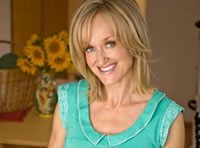 By Alanna Brown, LuxEco Editorial Assistant
Sophie Uliano is the guru of all things green that coincide with feeling and looking gorgeous. An advocate of eco-friendly living without the sacrifice of beauty and glamour, she is the New York Times best-selling author of Gorgeously Green: 8 Simple Steps to an Earth-Friendly Life, The Gorgeously Green Diet, and Do It Gorgeously: How to Make Less Toxic, Less Expensive, and More Beautiful Products. Her breadth of knowledge is tremendous, ranging from non-toxic skin care, to gardening, to eco-friendly home restoration. She has appeared on various talk shows, including Oprah, The View, Good Morning America, and Access Hollywood. Green Expos and conferences nation-wide have also invited her to share her expertise as their keynote speaker. Of course, LuxEco wanted to jump on the bandwagon and find out what makes Sophie tick. I was able to get an interview with the wife, mother, and environmentalist.
LEL: I read in your introduction that you grew up with a very resourceful and hard-working grandmother and mother. Clearly, they passed these traits down to you, but as far as taking those qualities and channeling them specifically into a green lifestyle, what was your "Aha!" moment?
SU: I don't actually think there was a particular "Aha!" moment – it was more a gradual awakening to what really makes sense. Many of us are so cut off not only from our connection with nature, but also from the resourceful sides of ourselves. We are so used to having things done for us or consuming unconsciously, that we don't realize that doing many things for ourselves (making things, mending, repairing etc), feel quite wonderful. As I grow (and hopefully evolve), I'm increasingly drawn to a way of life that's holistic, healthy and truly nurturing.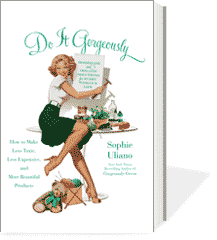 LEL: It must be exciting to have reached and inspired such a vast audience with Gorgeously Green. What was your first step in reaching out to people about green living and how did you come to decide that you needed to do so?
SU: I realized about eight years ago that it's all about awareness. Before I was aware that there were toxic chemicals in my home and skincare products, I just carried on as before. We need to have a personal reason for change and since most women, including myself, want to feel beautiful, I thought a good jumping off point would be to talk about beauty. I also wanted women to understand that you needn't become some weird, nerdy, compost-toilet/yurt-dweller, in order to adopt a way of life that is perhaps a little gentler on the planet.
LEL: You use such a warm and personal narrative tone in Do It Gorgeously while telling about each recipe…which is your favorite or most-used recipe, and is there any personal account that inspired it?
SU: I think my favorite recipe is a skin care one – "The Rose & Aloe Toner". I used to make my own toners with rosewater and glycerin when I was a teenager. I loved that I could go to the drugstore ("Chemist" in England,) and purchase these ingredients for virtually nothing and then mix up a beautifully scented toner that made my skin feel soft and lovely. When I was choosing the skin care recipes for "Do It Gorgeously", I included a variation on this recipe, which is perfect. You wouldn't find a bottle of toner in my home for over two bucks a bottle!
LEL: How did you even begin to know which oils, waxes, infusions, etc would be the right ingredient blend to yield a cleansing cream or clay mask? Was it your studies in homeopathy, aromatherapy, and botany or more experimentation?
SU: I drew from all the studying I've done in the disciplines you mentioned (most self-taught,) but all of the formulations came from experimenting.
LEL: I imagine that needing a certain cream yourself or maybe a girlfriend wanting some skincare solution would inspire you to create a potion. What else inspires a new potion?
SU: If I get sent or find out about a new products, I'm always fascinated to check out the ingredients. If I like the scent and consistency, I'll have a go at making it myself.
LEL: If you knew someone on the cusp of changing his or her lifestyle, what single green living tip do you think would bear the results to convert him/her?
SU: Learning to make something whereby he/she will realize that it was fun, easy and saved them a load of cash. This could be skin care, baby care, food, or even learning to garden.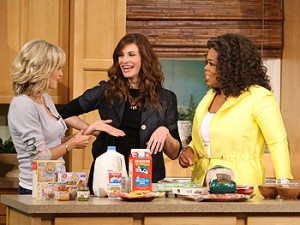 LEL: You must have a busy schedule, with speaking engagements, television appearances, writing, and touring for your book. How do you abide by green living on the go?
SU: Little actions help. I'm on an airplane right now and I'm sipping out of my "Tea Tiger", which is a travel mug with a strainer for whole tealeaves. I keep a packet of loose green tea in my purse and add a pinch to the cup and get the attendant to add hot water. I never travel without my India Rose Luxurious Face Oil either.
LEL: You mention in your book that gardening is your most satisfying and gratifying activity. As a wife and mother, is this also the most important aspect of green living for your family?
SU: Not really. I'm the only one who gardens, but the family love picking and harvesting! If we had a bigger backyard, they would probably all get involved.
LEL: What will be the focus of your next book? Are there more potions, home-remedies, and recipes up your sleeve?
SU: There's a bunch more recipes and I'll be adding these to my website and newsletters on a weekly basis. Next book – hmmmmmmm – I've got something percolating, so stay tuned!