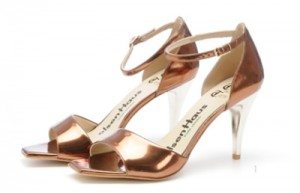 By Rachel Sarnoff, Writer and Founder of EcoStiletto.com and MommyGreenest.com and LuxEco Advocate
I'm a journalist by trade and I'd been writing about fashion and beauty for about 10 years before I realized that something was very, very wrong. Every eye cream promised to eradicate my wrinkles (they didn't), every mascara I tried was "proven" to thicken my lashes without smudging (they couldn't) and every little black dress I looked at was supposed to revolutionize fashion (um, no). If someone told me one more time about a shampoo that would give me body and bounce without blow-drying, I was going to scream.
Let's back up a bit: I was always kind of a hippie kid. My nickname in college was "Flower." My dad co-founded the Native American Studies Center at UCLA; I grew up going to pow-wows and thanking the plants when I picked flowers. I thought of myself as a pretty "natural" girl—I ate organic, breastfed my son until he was a toddler, and grew tomatoes in the summer time.
But in 2007, when I was pregnant with my third child I learned about Healthy Child, Healthy World. It was an eye-opening experience, to say the least. I learned about chemicals in cleaning products that made the air inside my home more polluted than the stuff outside. I found out about the spike in children's illnesses—from asthma to ADHD to cancer—that scientists linked to environmental pollution. And read about toxins like parabens in beauty products, pesticides in cotton, and the organic alternatives manufactured without any of that nasty stuff at all.
Lipstick without lead? Mascara without mercury? Jeans that didn't take a pound of pesticides to produce? The light bulb went off. Here were the truly revolutionary fashion and beauty products I had been waiting for. These products really were doing something different: They worked, without any side effects on me, or the Earth.
So I started writing about this kind of stuff, and publishing it online. Back in 2007, when I was working on GreenGirlGuide, I opened the mail one day to find a very intimidating cease-and-desist letter from lawyers for National Geographic, which saw a conflict between my site and their TheGreenGuide.com.
Once my partners and I realized that we had no resources to fight the geological giant, we decided to part ways. I knew that I wanted to continue online publishing about sustainable living, and I had two ideas: One was EcoStiletto, for women, and the other was Mommy Greenest, for moms, which will launch this May.
It's amazing how much has changed since I launched EcoStiletto in July, 2007. Celebrities are really aware of how much power they have to influence people's actions for the better. My EcoCelebrity section is full of interviews about all the different sustainable actions these celebrities are taking in their personal and professional lives–from Chloe Sevigny and her reusable water bottle, to Amy Brenneman and her organic garden, to Jenna Elfman and her recycling obsession. Something as simple as showing up to a premiere in a hybrid can really make people stop and think, "If it's good enough for Leonardo di Caprio, it's good enough for me!"
At the same time, sustainable fashion and beauty is really mainstreaming in a big way! Now we can buy organic makeup at the corner drug store, and organic cotton at H&M. And these fashion and beauty products are just as chic and gorgeous as anything else on the market. As I've said from the beginning: You don't have to dress like a hippie to be green. No more Birkenstocks and granny panties, people! (Not that Birkies can't be cute.) I love Leila Hafzi's ridiculously gorgeous, hand made, haute couture evening dresses, which support entire Nepalese communities in a fair trade project, and the dresses that Mr. Larkin did this year which she dyed using maple leaves she collected outside her home in Berkeley.
This doesn't mean that greenwashing isn't going on, not by a long shot. A lot of times I'll find a beauty product with "natural" and "organic" on the label, only to flip it over and see that it's full of parabens and synthetic fragrances. Nothing natural about that! That's why The Big List of Things That Suck is so fun. I get emails all the time from readers with new "suckies" to add. It's so amazing to be here now, when so many of us are getting informed and getting involved. I love it!