By Nancy and James Chuda founders of LuxEcoLiving and Healthy Child Healthy World
" Sitting in front of the mountain that gave birth to Paul Cézanne's artistic passion gave us a chance to relive what the great master spent years of his life creating. It was like feeling his soul rise from an earthly palette."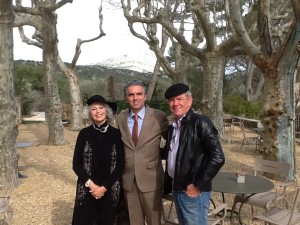 LuxEcoLiving/Les Lodges Sainte Victorie-Aix-en-Provence
The Chudas with Raphael Bortolozzi Director of Les Lodges
Saint Estéve served one of the most remarkable meals in all of France thanks to Michelin star chef Mathias Dandine! Set in the countryside in Aix in a place made famous by French impressionist, Paul Cézanne, this small, (un petit) boutique hotel boasts more than its Relais Chateaux  competition. WATCH!

From the Artist's Point of View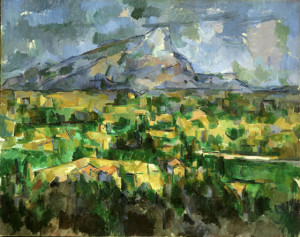 Credit- Paul Cézanne, Mont Sainte-Victoire, 1902-04, oil on canvas,  73 x 91.9 cm (Philadelphia Museum of Art)
Steeped in centuries of history and folklore, both classical and Christian, the mountain—or, more accurately, mountain range—only gradually emerged as a major theme in Cézanne's work. In the 1870s, he included it in a landscape called The Railway Cutting, 1870 (Neue Pinakothek, Munich) and a few years later it appeared behind the monumental figures of his Bathers at Rest, 1876-77 (The Barnes Foundation, Philadelphia), which was included in the Third Impressionist Exhibition of 1877. But it wasn't until the beginning of the next decade, well after his adoption of Impressionism, that he began consistently featuring the mountain in his landscapes. Writing in 1885, Paul Gauguin was probably thinking of Mont Sainte-Victoire when he imagined Cézanne spending "entire days in the mountains reading Virgil and looking at the sky." "Therefore," Gauguin continued, "his horizons are high, his blues very intense, and the red in his work has an astounding vibrancy." Cézanne's legend was beginning to emerge and a mountain ran through it.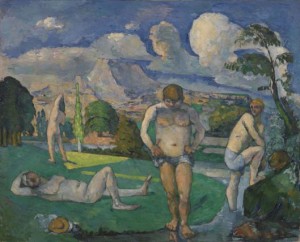 Paul Cézanne, Bathers at Rest, 1876-77, oil on canvas, 82 x 101 cm (The Barnes Foundation, Philadelphia)
 Imagine you are staying in front of one of the most famous mountains in France
At 3317 feet (1011 meters) high, the limestone peak of Mont Sainte-Victoire is a pigmy compared to the giants of, say, Mount Fuji and Mount Rainier. But, like them, it still exercises a commanding presence over the country around it and, in particular, over Aix-en-Provence, the hometown of Paul Cézanne. Thanks to his many oil paintings and watercolors of the mountain, the painter has become indelibly associated with it.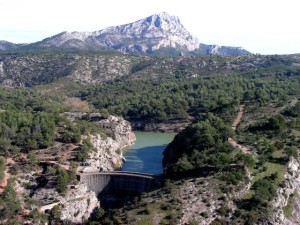 Credit- Mont Sainte-Victoire, photo: Bob Leckridge (CC BY-NC-ND 2.0)
Cuisine at Saint Estéve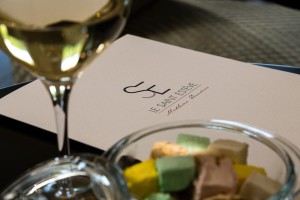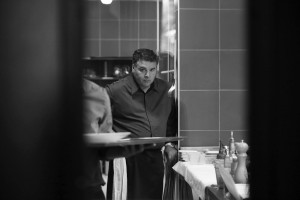 Chef Mathias Dandine has been at the helm of the kitchens of the gastronomic "Saint Estève" gastronomic restaurant in Provence at the Hotel Les Lodges Sainte-Victoire since 2012. Mathias Dandine carried out his professional training beside some of the most prestigious names in the world of French cuisine. His career began in Bormes-les-Mimosas, his native village, under the watchful eye of Guy Gedda, a real ambassador of Provençal cuisine.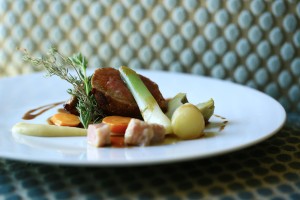 What to expect besides a great dining experience? You are in Provence just 6 miles from heritage Sainte-Victorie Mountain and literally 3.5 miles from the center of Aix-en-Provence. There are only 35 rooms which makes the experience feel very intimate. The staff is fantastic. I awoke early and took a swim in one of two swimming pools. Set in a 5-acre park with vineyards and Olivie trees, Les Lodges provides every modern amenity including a large LCD TV in your suite, which in my opinion, is of no use. Once you are dropped into this spectacular countryside setting your senses of sight, smell and taste become keenly aware that life is bountiful, beautiful and to be in the moment (which all of Provence beckons you to be) is nothing short of magical.
California Dreaming

For me, one of the most delightful opportunities throughout this series is meeting  young people who share their enthusiasm for their country and their jobs. This young man served me one of the best omlettes du fromage.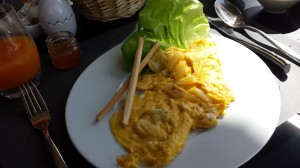 Editor's Notes:
LES LODGES SAINTE VICTOIRE
2250 Route Cézanne
13100 LE THOLONET
Tel.: +33 4 42 24 80 40
Fax: +33 4 42 24 80 41
Next stop. Discover one of the most popular maisons of world famous chef Alain Ducasse.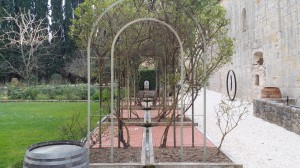 L'Hostellerie de l'Abbaye de la Celle
Maison d'Alain Ducasse in Provence