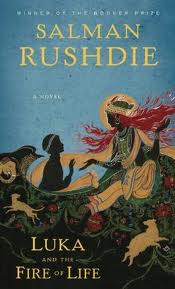 A book review by Nancy Chuda, Co-founder of LuxEcoLiving and Healthy Child Healthy World of Luka And The Fire of Life, Salman Rushdie, Random House
Jim and I were treated to a magical evening: time spent listening to Salman Rushdie in person at the Japanese American Cultural and Community Center,  in Little Tokyo in downtown Los Angeles.
The amusing and whimsical author held court to a sold-out crowd. People of all ages and ethnicities came to learn what it takes to create literary magic.
Sir Ahmed Salman Rushdie is a British Indian novelist and essayist. He achieved notability with his second novel, Midnight Children (1981), which won the Booker Prize in 1981. Most of his fiction is set on the Indian subcontinent and his style is classified as magical realism mixed with historical fiction. One theme that has captivated readers is the connections he weaves between Eastern and Western worlds.
In 1988, Rushdie published his fourth novel, The Satanic Verses drawing criticism, that led to protests from Muslims in several countries. Later in 1989, a death threat (or fatwa) was issued by the Ayatollah Ruhollah Khomeini, the supreme leader of Iran.
Rushdie began by reading a telling passage of his new book, Luka And The Fire of Life, in which a young son encounters a death angel, a figure of his former father who he meets on the other "magical" side of life. The father is referred to as The Nobu, a term, Rushdie said he had "stolen" from William Butler Yeats' great poem, Father and Child. Rushdie's Nobu is neither present nor dead; instead he is the "trickster," symbolizing a learning lesson Rushdie wanted  to express.
Rushdie stated that after the Muslim attacks and the threats on his life, his son Milan was too young to understand what the potential threats  meant.  Rushdie said,"He did not understand the word death and the fact that I could die… and that someday I will."
This idea became the theme from which Luka's fire burns.
The road map from which Rushdie weaves his magic tale is a gift to his son Milan for his 13th birthday.  A gift, he claims, that is "an old-fashioned quest concept, but it has this new thing which kids will like." Meaning, the innovative way the tale progresses through magical tricks, techniques and the trajectory of a video game.
In a world filled with techno-madness, Rushdie, in his new children's book,  uses videogame tropes  to tell the tale of a young boy struggling to save his father's life. Along with pals, "Bear," a dog, and "Dog" a bear, the threesome struggle to find boundaries in a mythological place, not heaven on earth.
The book tells the story of a boy named Luka who travels through a magical land and vanquishes enemies — malevolent entities, creatures who take offense for no reason — on his way to find the fire of life to revive his dying father. For Milan, the novel is no ordinary book; his middle name happens to be Luka, and his father, Salman Rushdie, wrote it for him. It is the second time Rushdie has been inspired to write a novel for a young son. More than two decades ago, when the Mumbai-born British novelist had already won the Booker Prize for his second novel, Midnight Children, his then-9-year-old son Zafar said he should write stories that children could read.
Rushdie explained, he would read portions of the book to a young Milan who claimed, "Each night he made it up further, advancing the story a little bit. On my 11th birthday, he presented me with the manuscript of the novel. It felt very nice."
When asked by a student why he chose to write Luka as a children's book, Rushdie explained,  "There is something very exhilarating about trying to please an individual reader," he said. "Usually you only have a nebulous idea about your reader. Someone as special as your own child offers a different challenge."
He mentioned other great books written with a specific child in mind. "Think of the two Alice books, written for Alice Liddell;" Peter Pan was written for a boy; Winnie the Pooh was written for Christopher Robin Milne."
The relationship Rushdie shares with his sons became the focus of his own literary epiphany. Milan was the first reader of Luka in every sense — he even reads parts of the novel before Rushdie's agent, Andrew Wylie, did. "There were times when the manuscript had to wait because Milan had math homework and couldn't read the parts till the weekend," Rushdie said.
In the novel, the hero is a young boy facing a major crisis: The father is incapacitated. The boy goes on an epic quest to find  "the gift" of inspiration, which comes from storytelling; an art form that Rushdie strongly believes creatively and politically must
remain alive. For Luka, the gift of life he gives through this magical woven tapestry is the promise that peace and harmony will prevail again.
The parallel in real life and real time with Rushdie's own life — being silenced by the fatwa — was clear, and the novel gave birth to a serious circumstance that changed their family dynamic. "Given the circumstances of that time, it was a very important bond between us," Rushdie said. Father and son would meet secretly because Rushdie wanted to protect his son from danger.
And so Rushdie, who admittedly turned to Father and Child, the masterfully written poem by Yeats, finds even greater meaning. It is Yeats who articulates part of the dream for the imaginary divide that  separates us in  life. And death.
"She hears me strike the board and say
That she is under ban
Of all good men and women
Being mentioned with a man
That has the worst of all bad names;
And thereupon replies
That his hair is beautiful,
Cold as the March wind his eyes"