By Nancy Chuda founder and Editor-in-Chief of LuxEcoLiving and co-founder of Healthy Child Healthy World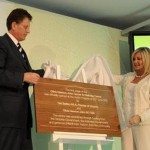 OLIVIA Newton-John says she was inspired to lend her name to Melbourne's new cancer centre to ensure public hospital patients had the same quality treatment she had during her fight with the disease.
Having known Olivia for nearly forty years I can say that once she gets a vision, there isn't anything she hasn't accomplished.
Thanks to her early support, Healthy Child Healthy World, the charity we founded in memory of our only child Colette, who died at age 5 from a nonhereditary form of cancer, remains one of the most respected children's charities in America.
Olivia and I were blessed to have experienced not only our pregnancies at the same time but the birth of our daughters were only six weeks apart. Chloe and Colette were born in 1986 and were raised as sisters.
Following Colette's diagnosis of Wilm's tumor and her subsequent passing in 1991, Olivia helped to raise funds for the Colette Chuda Environmental Fund and later (CHEC) the Children's Health Environmental Coaltion, now known as Healthy Child Healthy World.
Her diagnosis of breast cancer in 1992 came as a shock to her family and friends. Having witnessed Colette's physical demise having undergone extensive surgeries, chemotherapy and radiation, Olivia considered forgoing conventional treatment and considered using alternatives such as homeopathy and acupuncture instead.
"Common sense prevailed," said Newton-John. "One of my girlfriends said, 'Why would you want to risk even that one cancer cell? You have a child.' "
She had chemotherapy after a modified radical mastectomy, and she says the chemo ended up not being nearly as bad as she'd feared.
Her physical journey battling the disease created a greater purpose. Olivia has always said,
"Getting cancer was a gift in many ways. I learned how to challenge my biggest fears and turn an obstacle into a benefit for others."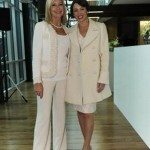 Fighting the disease was only a part of the ultimate journey. The real work was bringing her vision to fruition. For the best part of a decade she traveled extensively around the world to bring greater awareness to cancer "thrivers" and the relatives and friends of those who did not survive.
I remember when she and her husband John Easterling, left America to walk across the Great Wall of China to raise funds for the Olivia Newton-John Cancer and Wellness Centre. It seemed like a dream in the clouds. How would she ever accomplish her goal to build a state-of-the-art health and wellness centre in Melbourne Australia?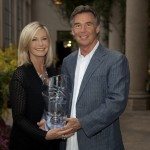 The culmination of all of her efforts might have something to do with good genes. Olivia's grandfather, Max Born won  the 1954 Nobel Prize in Physics.

The apple does not fall far from the tree. Olivia mother, Irene Newton-John, the daughter of Max Born, was also a brilliant woman who understood the foibles of humanity. She inspired Olivia to take action and to make the world a better place for future generations.
Olivia was deeply humbled by the opening of the centre which bears her name. She said that it was the culmination of the hard work of thousands and a dream come true.
"I know when you're going through cancer it's a pretty daunting thing to go through and (it helps) to be in a space that's a healing space with a lot of light, and know that there's support, not just with the wonderful treatments at the centre but in the program as well."
"I know from my own experience," she said.
"I had to find it myself and go to different places or have them come to me.
"I was lucky I could do that but most people can't so that's why this is wonderful."
A good friend to many, Olivia never refuses an opportunity to reach out in a time of need. Beth Nielsen Chapman, a singer songwriter and Honorary Board Member of Healthy Child Healthy World shares this reflection about her journey with breast cancer.
"When I was diagnosed in 2000 with stage 2 breast cancer Olivia was an incredible friend and a resource for so much deep wisdom on how to navigate those waters.  Now so many will benefit from her brilliant guidance and hopefully this center will set a new tone into the marketplace of healing.  I use the word "marketplace" because as we all know illness is big business…what a gift it will be to see the business of good health prosper.  May it become the new normal!"
Newton-John said the wellness program was an underrated component in the battle with cancer which began for her with a diagnosis in 1992.
"Through research we find cures and better ways to treat cancer, and through wellness programs we support patients and their families."
The centre received $189 million from a combination of state and federal government funding and private donations.
ALMOST a decade of vision, hard work and belief culminated with the official opening of the Olivia Newton-John Cancer and Wellness Centre.
Those who were fortunate enough to attend the official ceremonies said,
"Newton-John glowed at the ceremony as she unveilled the specialised cancer unit, joined by federal and state politicians.
I can honestly say, knowing Olivia all of these years, nothing brings her greater happiness  than doing for others. She honestly loves her new purpose for a healthy life and and wants to ensure others can achieve the same quality of care she was so fortunate to have while battling the disease. And she places prevention at the top of her list.
She has achieved more than most in her field yet she has always retained her Grace and Gratitude for all the wonderful gifts life brings.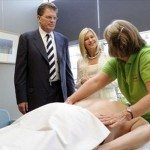 I'm proud to call her my friend! Congratulations Livy! You did it!