By Nancy Chuda founder and Editor-in-Chief of LuxEcoLiving and co-founder of Healthy Child Healthy World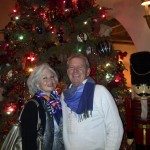 Don't even think about saying no! Just treat yourself to an experience of a lifetime. Or, if you are thinking about planning your daughter's wedding  look no further.
Once in a great while relaxation becomes tantamount to all else. Not easy to do unless you can find a way to slip out of sight and into a paradise of sorts where every ephemeral need is met. Unlike other world class resort hotels, the Biltmore  sets a standard both past and present for magical moments and everlasting memories. It's your gift and you deserve it!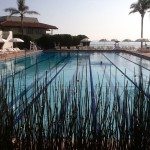 If I were to pick one of the most beautiful places in the world to observe a sunset nearing the end of any year, I would have to say, sitting poolside at the coveted Coral Casino Beach and Cabana Club overlooking Butterfly Beach at the prestigious Four Seasons in Montecito is a LuxEcoLiving4U premiere destination.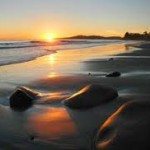 Nestled on the California coast between the Pacific Ocean and the Santa Ynez Mountains, Santa Barbara is graced by sunny skies and a mild year-round climate – earning its reputation as the American Riviera.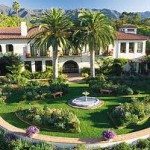 The renovation of the Four Seasons Biltmore's guest rooms and cottages has been a labor of love that has taken more than four years and over 500,000 subcontractor hours to execute. Renovations began in February 2003 and were part of the overall multi-phase Biltmore renovation program of 130,000 square feet and $180 million completed in May 2006. It has been accomplished with a high regard for historical accuracy and meticulous attention to detail in order to restore the Biltmore to its heyday as one of the world's grand hotels.
Ty Warner's grand scheme and persistence paid off.  The Biltmore conjures memories of a bygone era of lives well lived in Montecito's wealthy enclave.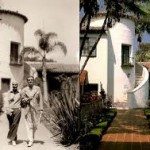 A place where money did and still does grow trees and people relish their lavish gardens surrounding their homes that even today can barely be seen from behind magnificent masonry walls. There's a scent so familiar from the pungent blossoms of roses, hybrid tea varieties, and the orchids that trellis the entrance, Spanish revival architecture, that spans thick cool walls welcoming travelers from near and far.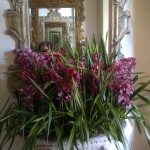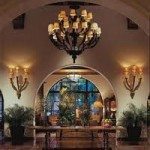 There was a time in 1927 when the train, a main means of transportation, stopped to enable passengers to unload their suitcases (sans wheels). Imagine the well dressed women, wearing  dresses and gloves, hats of course, and men in well tailored jackets, fedora hats, and shoes with laces. No sports apparel allowed at the entrance. Ties must be worn for dinner.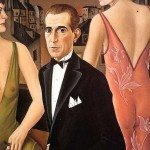 And bathers wore swim caps at the beach and in the pool.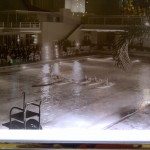 The Biltmore gained its reputation at a time when the very wealthy elite from the east coast discovered the lush California tropics of every species imaginable, verdant landscape that dotted but did not overwhelm the pristine beaches.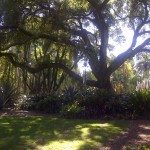 Today, the Santa Barbara Four Seasons Biltmore remains as a singular landmark destination ensconced in its originally built Spanish Colonial architecture and gardens that consumes the curiosity of any passer-by. And on tracks not far behind its magnificent grounds one still hears the sound of an engine and the train's whistle blows reminding us of a time when stellar first-class service on board  could rival almost any four star hotel.
As time stands still which rarely happens in a fortnight, our two-night stay was nothing short of a divine intervention; stress melts away beginning with a signature spa treatment for two. I had a Honey Grapefruit Ginger Sugar Scrub followed by a relaxing massage.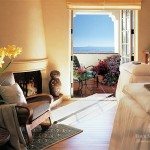 Clothed in "the" Biltmore robes and slippers we were greeted and taken to a private treatment room adjacent to the rose garden and overlooking the sea. A warm fire welcomed us as did the freshly brewed ginger tea.
Two massage tables spaced between the room with clean organic cotton sheets and towels welcomed our presence. Together as husband and wife we experienced a synchronized massage given by excellent therapists using only organic, sea blended botanicals. The essence of rosemary and scent of lemon combined with the purest of pure oils made way for deep relaxation. As the ocean air filled the room accompanied by the softer sounds of a low tide, we recovered our senses warmly wrapped in our robes and slippers and were safely escorted to another private room for even more relaxation.
Surrounded by sounds of the sea I have to say, that this spa treatment enlightens the senses. Touch is so important for the human body as are scents that are natural and not repugnant due to chemical additives. For one to experience a pure sense of wellness it is important to know that the products that are being used are naturally comprised. Having that assurance added greatly to the rest of our stay.
Our room was simple yet well appointed. The large white tiled bathroom offered many of the same spa amenities. Environmental conservation and cleanliness is also a signature of the Four Seasons Biltmore Hotels. And the feel of the soft white bed linens and comfortable pillows made for sound and interrupted sleep. Truly a gift.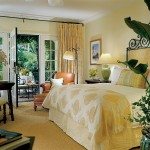 At dusk, a golden light swept across the bedding which had already been turned down for the night. A beautiful floral arrangement and basket of fruit had been gifted to us. The citrus accompanied by may favorite, green apples, help to prepare our appetites for a gourmet meal.
Under the culinary design of Executive Chef Alessandro Cartumini, the Bella Vista, showcases organic, Italian-inspired California coastal cuisine.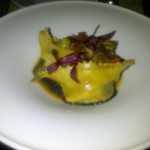 With an ambiance that beckons relaxation, expansive views of the sea and a heated outdoor terrace, it is next to impossible not to want to plan every wedding anniversary here at the Biltmore's Bella Vista.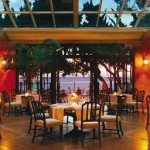 Beginning with several sample courses we enjoyed a variety of the chefs inventions using only locally caught fish, and  organic lamb.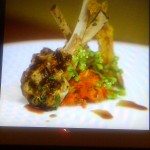 Room service is must! And by all means breakfast is by far the most welcomed and enjoyed of all meals especially when the table rolls in and the piping hot coffee served in polished silver gleams in the morning sun against the backdrop of a cool but sunny Montecito morning.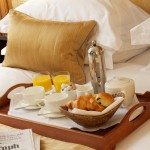 I know I am my mother's daughter. She always boasted about the famous hotels she stayed in throughout the world and how she loved the simply divine breakfast arrangements and service.
There is no prep time for this meal. Robes and slippers and a willingness to turn off all electronic gadgetry for a freshly printed copy of  The New York Times is just, still, and will always be "all the news thats fit to print."
What makes Ty Warner's hotel his home away from home? I think it is the lushness of the property which boasts a variety of trees some dating back to the thirties. Celebrated by an array of birds and pollen spreaders, bees and hummingbirds abound. Ty keeps tabs on the property and often stays in his own cottage.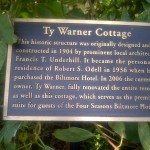 If nature doesn't awaken the spirit in terms of the greenery and amazing landscape which amasses so many different varieties of plants and flowers, the only other option is to swim laps in the hotels private and well reserved Coral Casino pool.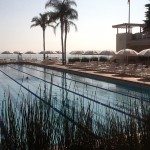 This is where the Four Seasons Biltmore Santa Barbara claims and will retain it's lifetime reputation for the ultimate experience in LuxEcoLiving luxury.
You enter what appears to be more sensual and alluring than the sea itself. The pool, famous for it's history and athletic events which spans decades, is so enticing. The cool, slightly heated temperature brings bathing to new sensory heights. The water plus the length in which it is consumed by swimmers, mostly club members who pay a very lofty price to join (membership applications are now backlogged) becomes a once in lifetime opportunity. And deservedly so!
On our last day, we had Ty's favorite Cabana # 24 for the entire afternoon. We each had a key to this beautifully appointed private space but refused to move one inch. Sitting above the pool and gazing directly out to the ocean covered by canvas and hearing only the muffled sounds of the fabric as it wafted in the wind, I began to think that although times have changed, nature hasn't. The same sounds, smells and experiences of being seaside and pampered by a much younger and hipper staff; college students who could literally do without their Facebook correspondences for just 5 hours, brought a sense of deep tranquility and appreciation for life…. at the Biltmore. It just doesn't get better. It's the best.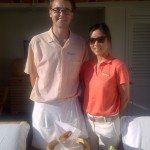 Editor's notes:
A very special thank you to Gena Downey director of Public Relations for her patience and incredible support. And for making our experience nothing short of sublime!
I call this drink a Bloody T as in Ty Warner's secret ingredients. You can't even guess. But it is oh! So very special.