By Nancy Chuda founder and Editor-in-Chief LuxEcoLiving and co-founder of Healthy Child Healthy World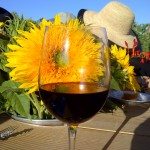 The french may think they know it all or even have it all but seriously folks, until you have spent a weekend in Santa Ynez Valley and tasted the wine and fresh food harvested from sustainable soil you haven't lived.
And that's exactly what the valley has to offer. As Helen and Scott Nearing discovered many years ago. Its all about Living The Good Life. And as Scott says, "pay as you go."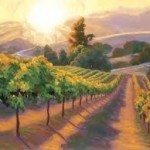 It takes a village. Los Olivos is home to about 1132 people. Its rooted history began in 1880 on a bluff overlooking Alamo  Pintado Creek
Sometime around 1880, just north of the town of Ballard, a two-story house was built, with a wide, covered front porch and neatly symmetrical arched windows in the center gable, situated on prime farmland. It became the property of twenty-two-year-old Alden March Boyd, of Albany, New York, when he paid $8,000 for "157 acres, in 1885. He planted five thousand olive trees, and called it Rancho De Los Olivos. The 1880s were a boom time for California.
Today, Los Olivos is renowned for its wineries and tasting rooms. Starting in Los Olivos and stretching north on the Foxen Canyon Wine Trail.
Although not known for eye candy or celebrities, thank goodness for that, various celebrities have called this area home, including Cheryl Ladd, Noah Wyle, David Crosby, Bo Derek, Kelly LeBrock, Steven Seagal, John Forsythe, Ray Stark, Robert Cray, and Jimmy Stewart. Former US President Ronald Reagan lived about 9 miles (14 km) south at Rancho del Cielo ("Sky Ranch"). Singer Michael Jackson's former property Neverland Ranch is located about 5 miles (8.0 km) north. There are also a number of large thoroughbred horse ranches in the area, and Fess Parker's winery, featured in the movie Sideways, is around here. Mr. Parker and his wine were featured on the NBC daytime drama, Santa Barbara ( first episode of Season Two ) of James May and Oz Clarke's Big Wine Adventure. Episodes of The Bachelor were also filmed in Los Olivos.
And it made history again. In May, 1986, Los Olivos was used as the location setting for the fictional town of "Mayberry" in the made-for-TV movie Return to Mayberry, based on the popular 1960s sitcom The Andy Griffith Show.
Several locations in Los Olivos were featured in the 2004 movie hit Sideways.  And The Los Olivos Grand Hotel, built in 1985, is now Fess Parker's Wine Country Inn, owned by former Daniel Boone and Davy Crockett star, Fess Parker.
Standing in the center of this quaint little town which is configured more like a country square is the legendary Los Olivos Wine and Merchant Cafe. I call it our most exclusive watering hole and if you ride into town on a horse you can even park your reins  on the rail outside of Jedlicka's one of the best western wear stores in America.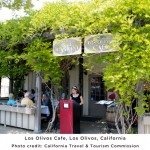 It won't take long before you get a waft of air scented with the smell of hickory smoke. Or hear the pleasantries of passerbys raving about the food and wine. A golden light shines over a patio draped in wisteria which is still in bloom (  August) and you hope to get a table seated in the shade of its flowering lilac and abundant green leaves.
For most visitors that's as good as it gets unless you know Sam and Shawnda Marmorstein the owners.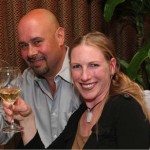 The story of this special Café and Wine Store began in 1995.   Sam  moved from Los Angeles to Los Olivos to fulfill a dream.  He wanted to plant a vineyard and create the best wine he could possibly make.  Before moving to Los Olivos he had been making wine with a few friends (all of whom have followed the same dream, and are respected wine makers).  "What does this have to do with the Los Olivos Wine Merchant & Café?" you ask.  Well, Sam needed to produce an income while he waited for his four-acre estate grown, Bernat wine, to become recognized.  The same year, Sam bought a little deli in downtown Los Olivos with checkered table clothes and a wine list of two to three wines.  He had a vision that he could transform this deli into a restaurant with affordable wine friendly food and a great wine list.  After a major renovation Sam opened the Los Olivos Café.  Sam quickly learned the ropes of the restaurant business since the Los Olivos Café was instantly popular with the locals.  In 1999 he met his future wife, Shawnda.  They married in 2000 and together have four beautiful children.  Shawnda, a foodie and restaurateur continues to be an integral part of the business and winery.
And they are so generous and philanthropic. Each year, they host a magnificent dinner and wine paring at their beautiful 4 acre farm.
"In the Vineyard & On the Farm" celebrates elegance, sustainability, and the joys of sharing the bold and beautiful Bernat wines from Sam and Shawnda's private reserve. Chef Chris Joslyn of The Los Olivos Café  caters using locally sourced meat along with produce grown by Debby & Shu Takikawa, who farm four acres of Sam & Shawnda's property.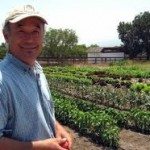 And if you have ever tasted a salad grown by Debby and Shu you have never tasted salad. Period.
Farm Dinners continue to increase in popularity. LuxEcoLiving4U was introduced to the idea through the invention of the traveling duo who created national farm to table dinners.
Outstanding in the Field dinners are the most sought after tickets and they are hard to get.
The Los Olivos Café has been on this bandwagon since 1995, before the words "sustainable" and "organic," were popular. Their philosophy has always been simple; to offer fresh California cuisine to enjoy with their award-winning wine list of local wines. From a business stand point Sam comments, "We eat the food from our restaurant regularly, so we want it to be healthy and taste good, it just doesn't make environmentally sound sense to buy produce from hundreds of miles away, when it's grown right down the road." Their seasonal menu offers cuisine (and wines), which reflect the flavors of the California central coast in a very literal way.
And in a literal moment, once feet were planted on soil known best for the award winning Bernat wines and organic lettuce, we ALL found ourselves in heaven.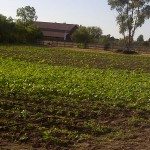 The afternoon began with a reception of hors d'oeuvres and wines from Arcadian and Tercero, two local wineries that produce exceptional and highly acclaimed wines.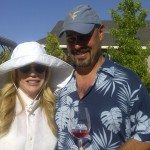 Guests were immediately treated to a walking tour of the farm with Debby and Shu Takikawa who generously shared their  30-plus years of experience in organic farming.  A native of Japan, Shu has brought an innate understanding and ability to work with nature to bring out the expression and unique flavor of his produce. In reference to Shu's farming methods Shawnda said, "I think of him as the artistic farmer because his farming has made our property into a pastoral painting, but he might better be described as the Zen farmer."
We took our seats at a table that stretched no less than 50 feet in length.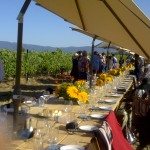 The sun kept those seated and facing west warm while those who sat opposite at the table got to enjoy the slow backdrop of the suns rays sweeping across the vineyard, turning the softer shades of green vines into vibrant darker shades. Holding a glass of Bernat, the ruby red color and texture, smell and taste of the wine, would challenge any french countryside banquet. In fact, it was so much better.
The Los Olivos Café's chef, Chris Joslyn, prepared an array of Shu's lettuces for the first course.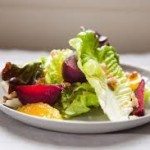 And a main course of Grilled Bazette Steak from Zaca Ranch Cattle Company– located down the road from the dinner, with chimichurri and oregano from the Marmorsteins' herb garden.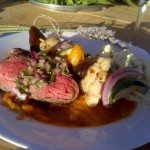 The fresh flavors of truly great produce paired with an amazing cut of meat was again a tribute to the perfection that comes from loving the art of cooking from the heart.
The desert was so fabulous that I overheard some bartering going on. "I'll trade you the rest of my wine for another bite of that chocolate and cherry souffle."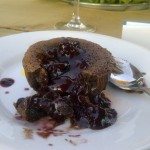 Life just doesn't get any better when your dining with Sam and Shawnda Marmorstein at their farm. But for those who need  help Bernat wine was  the centerpiece to benefit those in need. All proceeds from this wonderful dinner helps to support the Santa Ynez Valley Jewish Community Center.
Editor's Notes: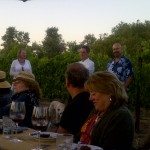 With great admiration and appreciation we want to thank Sam, Shawnda, Shu and Chris for a magnificent feast in a glorious setting.