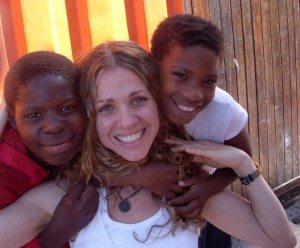 By: Lewis Perkins, Founder of Women Are Saving The World Now and LuxEco Advocate
Article via Women Are Saving The World Now
Last week, I had the honor to speak with yoga practitioner, teacher and activist, Seane Corn, about her work with Off The Mat Into The World. Seane is quite well known in the yoga community, but for those of you have have not heard her story, this is a woman who found that her very gift to the world was her gift of teaching yoga. By creating OTM, Seane and the many women who joined her in this work, found that yoga practice could be used globally to inspire consciousness and empower women through leadership training, community collaboration and service projects.
The Facebook group has well over 5000 followers and I know thousands beyond that who globally support and participate in her mission. When I first learned about Seane Corn and OTM from yoga instructor and dear friend Stephanie Spence (One With Life), I knew this women was someone I needed to meet. So last month, when Lori Bregman (Rooted for Life) suggest I interview Seane, I was immediately on board.
In my view, we are all called to explore the very essence of our human nature in order to find the unique talents the planet needs from us today. If we were each to explore that root passion, that core talent, inner truth that each and every human has given, then we will find the very medicine we carry to solve the world's social and environmental issues. Seane has done just that. As you will see in these videos, she is on the most passionate and heart centered people I have met.
** DISCLAIMER: THE VIDEOS CUT OFF HALF OF SEANE'S IMAGE. I LOVED HER INTERVIEW SO MUCH THAT I WANTED TO USE THIS ON THE SITE. I HOPE YOU WILL UNDERSTAND AS I LEARN THE TECHNOLOGY AND HOPEFULLY IMPROVE WITH TIME. **
You will notice that my skype recording abilities are not always the best. In some of the videos the frame is off center, but Seane's voice and purpose is loud and clear. I hope you enjoy these four videos. I LOVE what she says about intuition in video 4.
If you know anyone who has participated in an OTM program, please comment. I would love to learn more about the many women engaged in this program.

VIDEO 1: Seane Corn on Women Saving The World
VIDEO 2: Giving Back Through Yoga
VIDEO 3: The Impact of The Work & Her Hope For Men
VIDEO 4: On Intuition
THANK YOU SEANE! You and your work inspires me.