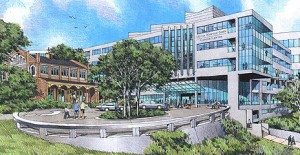 By Bethany Colson, Managing Editor of LuxEcoLiving.com
When fighting cancer, we often think of disease management through any number of Western medical practices.  But wellness takes a key role in healing and maintaining the healthy balance in mind, body and spirit – another potent aid in recovery.
Through the help with Premier of Victoria John Brumby budgeting, Australia has just taken a leadership role with promoting this crucial element to healing with $68.9 million in funding that will enable Austin Health to commence construction of The Olivia Newton-John Cancer and Wellness Centre, therby expanding the number of critical cancer services, on the Austin Hospital site.
Olivia Newton-John has given her name to the building as she has been a key personality in promoting wellness as an inextricable part to the cancer recovery process.  In the moving and powerful documentary, Breast Cancer: The Path of Wellness & Healing by filmmaker Nina Montée Karp, she shares her experience of living with and overcoming breast cancer.  What began as a terrifying and seemingly catacylcismic event that made her feel powerless and full of dispair, her breast cancer experience took her through a journey of recovery that was ushered in by a reverence to the mind-body connection and healing through a process of whole body wellness.
Now, after 17 years, Olivia is a breast cancer "thriver" and has dedicated her time and talent to raising awareness of breast cancer and the need for early detection.  She is now collaborating with the Austin Hospital in Australia to establish a pioneering and state of the art wellness center that treats the whole of the person- body, mind and spirit- with non-medical treatments while they undergo the latest medical procedures.
The tranquility of this center will help calm the patients and create a healing atmosphere with mediation classes, yoga sessions and massage therapy while offering a respite from the hospital environment. The outcome is an environment that allows patients to begin to make some sense of their disease and its effect on them.
The Olivia Newton-John Cancer and Wellness Centre at the Austin Hospital will deliver a comprehensive range of cancer services, all under one roof. It will include purpose built facilities for cancer treatment, education, training and deliver international research programs of all types of cancers. A dedicated Wellness Centre will provide complimentary therapies that will work alongside the latest medical treatment – to help heal the whole person.
The funding of the Olivia Newton-John Cancer and Wellness Centre consolidates Austin Health's position as one of the leading cancer service providers in Australia, offering a full range of diagnostic and treatment services and palliative care to compliment the wellness management.
"This is the single biggest contribution towards achieving our vision for a world-class cancer and wellness centre for Victoria," Austin Health CEO, Dr Brendan Murphy said.