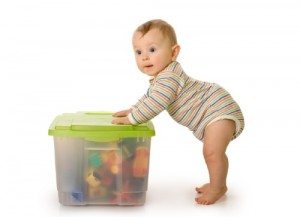 …I Wish For Safe Toys Tonight!
My last trip to Toys R' Us was disturbing on several levels.  Not having kids of my own, I rarely go but it was Christmastime… the perfect opportunity to spoil my 5 year old niece.
Toys R' Us, like so many mass retailers, is a cacophony of noise and chemicals.  The smell of plastics was noxious and overwhelmed me as I walked to the door.  These are the same toys, often produced with toxins like hormone disrupting pthalates, bisphenol-A, PVC and VOC's, that babies and kids play with for hours and often stick in their mouths to chew on.  They ingest these chemicals or inhales their chemical-laced scents and the effects are dangerous.
HealthyStuff.org, a project of the Ecology Center, is an organization committed to advocating on behalf of people and the environment against dangerous chemicals and for environmentally-friendly and socially responsible practices.  With a department of their organization focusing on toys and childrens' health, they did a survey of more than 700 children's toys and found that 18% of the 737 products tested were contaminated by lead–a known neurotoxin. (Fortunately, this is a steep decline from their 2007 study that showed 67% of tested products had lead contamination.) And what about mercury, cadmium, arsenic and bromine? Two-thirds of the products they survey were contaminated with these carcinogens.
PBS did an excellent piece on toxic toys in March 2008, focusing mainly on the presence of pthalates and effects on our children here.
PBS moving piece is especially inspiring when Mark Schapiro, from the Center for Investigative Reporting and author of "Exposed: The Toxic Chemistry of Everyday Products and What's at Stake for American Power," assures us that there are alternatives.
LuxEco Kids found one source, amongst many, that confirms Mr. Shapiro's contention: Star Bright Kids Company, an online store that carries an array of non-toxic, well-crafted, thoughtfully designed, and aesthetically pleasing toys for kids. Including products from Europe (where pthalates and other carcinogens are restricted by EU law) and some from North America (by companies who produce toys with safety and ethics as top priorities), they carry lines such as  Active People, Bamboo Collection, Beleduc, Djeco, Käthe Kruse, Mighty Mind, Selecta Spielzeug and so many more.
Natural and eco-friendly (many without batteries), Star Bright chooses toys that are educational and designed for interaction, as opposed to toys that are passive and simply entertain.  Star Bright does an excellent job of accessing and monitoring the toy producers' manufacturers and distributors so that they can be confident in the quality of the materials, craftsmanship, working conditions and their compliance with each company's claims.
From their website, Star Bright outlines their commitment and method for finding and selling safe toys:
Play Value
We look for unique toys that are naturally engaging for babies or children. We select natural toys that encourage interaction, imagination, development, logical reasoning, and open-ended play.
Quality
We select toys that are thoughtfully designed, made of high quality materials, and skillfully crafted. We have found that many parents prefer fewer toys of higher quality than an abundance of toys that are quickly broken or thrown out. Many of our American and European toys are of heirloom quality, crafted with hardwoods such as birch or maple.
Eco-Friendliness
We offer several lines of toys that cater to the growing demand for natural, organic and/or eco-friendly products. Several of manufacturers that we represent have developed innovative processes for using recycled rubberwood or replenishable bamboo in lieu of plastic or traditional wood. In addition,we also feature soft toys that are organic or constructed of completely natural materials as well as PVC-free melamine tableware.
Artistic Qualities
We seek toys that are visually appealing to both children and adults. All Star Bright products have an artistic edge and some of them have been designed by children's book artists.
Awards
Many Star Bright toys have won awards in the United States and abroad. We particularly pay attention to the Oppenheim, Dr. Toy, and Spiel Gut Awards as they are independent organizations that do not benefit from advertising revenue from toy companies.
Safety
All Star Bright products conform to American and/or European Toy Safety Standards. We specifically seek products made in Europe or the United States; however,we have found several brands that originated in Europe and have moved production to Asia. We do not carry products that are mass produced, and the products that are manufactured in China are tightly overseen by key personnel (including owners) of the parent company. We require safety statements from all vendors.
I had a blast going through their website and shopping by category, age, country of origin, eco-friendliness and brand.  I thought about my last trip to Toys R' Us when I was roaming the aisle looking at each toy, reading labels and precautionary statements and feeling so unsure and powerless to make a healthy and safe choice for my niece.  Now, knowing that someone else is doing the vetting for me and has staked their companies reputation on it, my mind has been put at ease and I am loving the selection.  Parents that want to  give their kids safe toys to play with aren't relegated to toys that look like they came out 18th century.  They can choose modern fun dodads that will delight any child.
Furthermore, these products are made strong and durable.  I could see these toys being hand-me-downs from one kid in the family to the next.  A wonderful alternative from the otherwise p toys that are destined for landfills after a few months of play.
Here are some LuxEco Kids favorite picks:
[nggallery id=12]
It looks like my niece may be spoiled after all!