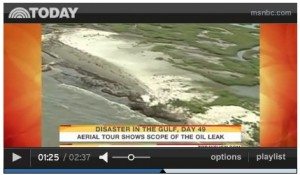 In a rare look at the Deepwater Horizon rig, Kerry Sanders from The Today Show flew over the oil-soaked Gulf of Mexico.  As far as the eye could see, oil reflected the sunlight off their shiny slicks.  Shockingly, Sanders noted the noxious smell of the oil as the Coast Guard helicopter hovered 500 feet over the water.
The helicopter also takes flight over the coastal vegetation that is now choked with oil.  Meanwhile, brown pelicans beautifully fly in formation across the ocean not knowing the damage that will happen once they touch down on the water's surface.
WATCH The Today Show's aerial view of the Gulf oil spill here.
NASA has also provided hundreds of images of the Gulf taken from space.  WATCH a beautiful selection of horrific images below: