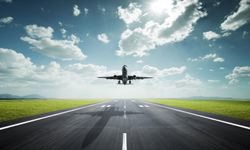 By Rachel Lincoln Sarnoff, www.EcoStiletto.com and LuxEco Advocate
Everyone knows that air travel is bad, bad, bad for the environment. But according to IATA, the International Air Travel Association, which downplays global warming under the header of "Scientific Uncertainties," aviation is responsible for a mere two percent of global carbon emissions, and 12 percent of carbon emissions from transport—as opposed to 74% from cars and trucks on the road.
Seems reassuring, doesn't it? Kinda makes you want to hop the next flight to anywhere, right? But think about this: The global warming  issues associated with aviation are alarming not simply because of the carbon dioxide (and nitric oxide, nitrogen dioxide, sulphur dioxide and water vapor) emissions, but because at the height that they are, um, emitted, they have twice the effect on global warming that they do at ground level. So one jaunt across the Atlantic can produce as much ozone-depleting pollution as the average driver does in a year. Compound that with the fact that the average number of people flying is expected to double over the next 15 years, and Houston, we've got a problem.
Obviously, air travel is a fact of life. Use EcoStiletto's guide to think outside the (silver) box and plan a carbon-neutral vacation.
OFFSET
Online resources like Carbon Fund let you calculate the environmental impact of your life—including travel—and then buy offsets to counteract it. Where does the money go? To green energy projects like solar fields and wind farms. Bonus!
CHOOSE YOUR POISON
The air travel carbon footprint calculator from carbon-offsettor TerraPass takes into account specific airlines and routes, so you can figure out which airline offers the lowest carbon flight on any route before you book your travel, then determine how your choice of an economy, business or first-class seat affects the footprint of your flight. Plus, you can specify direct versus connecting flights, so the impact of additional take-offs and landings can be factored in.
HIT THE GROUND RUNNING
If you're traveling from a car-heavy metropolis like Los Angeles, your first instinct might be to rent a car. But many cities are more easily navigated by foot, bike or public transportation than from behind the wheel. (As anyone who's ever tried to park in San Francisco will tell you.) Confused? There's an app for that: EveryTrail lets you plan a carbon-neutral trip and record your travels as you go so others can benefit from your experience. (But if you gotta getta car, look for a hybrid or a high-mileage vehicle—most major rental companies now offer these options.)
SHACK UP
Staying in a hotel? Look for a property that's environmentally-conscious. Sustainable Travel International <>  verifies eco-properties,  and The Leading Hotels of the World organization offers an offset program, to boot. To make things easy, head for a Starwood Element, which is going for LEED certification with in-room recycling bins, EnergyStar appliances, a ban on paper and plastic, recycled décor and low-VOC paints. (Can we live there? With 20-to-50% off offers, we just might.)
For more resources, plus an eco-travel essential giveaway, please visit EcoStiletto's Living section!