By Nancy and James Chuda founder of LuxEcoLiving and co-founders of Healthy Child Healthy World
The Batcheller Mansion Inn is one of America's most historic Victorian Bed and Breakfasts. Celebrate the art of gracious living in Saratoga Springs.

Step back in time to an era of gracious living. People may have been seen or described as reserved during the illustrious Victorian era but what remains is a profound sense of eclecticism found in the stunning architecture which indicates that those who acquired wealth used their notable societal standing. Not to different  from today's wealthy philanthropists who build monumental homes, museums, and hospitals to perpetuate their names and their history.
We dined at the table where Ulysses S. Grant had been seated and we slept in one of the most famous bedrooms, the Catherine Suite which welcomed Grant, McKinley, and other historic individuals.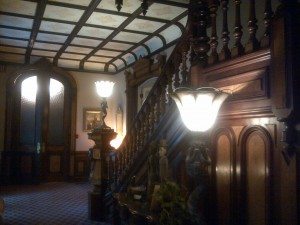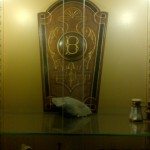 In flourishing Victorian times, Saratoga Springs attracted many individuals whose common horse sense made them more worldly due to the fact that the Springs became the epicenter for the most notable horse races.
For over 130 years, some of the most heart stopping horse races in history have been won – and lost – at the Saratoga Racecourse. Legendary races like those run by Man O' War – winning five races in Saratoga, as well as suffering the only loss in his career.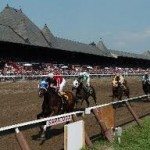 Some advocates believe that Man O' War was the greatest horse of all time.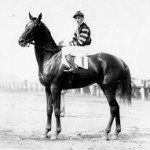 "I have been on the fence for 10 years as to who was the greater horse, Man O' War or Secretariat. But when all is said and done, I believe Man O' War was for two reasons. One, he didn't have the advantage of a starting gate, modern shoes and tracks, which were speed favoring. Yet he set records and dominated the era. Secondly, the quality of his progeny sets him apart from Secretariat. Man O' War was the sire of War Admiral, another great horse. It's a close call, but I have decided finally."
Famous horses are only part of the rich history surrounding Saratoga Springs. The more famous aspects relate to the architecture and the Inn's which hosted United States Presidents, members of the royal family, and dignitaries throughout the world.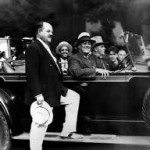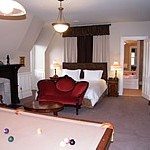 Jim and I had a chance to visit this spectacular residence and experience all of its historic splendor.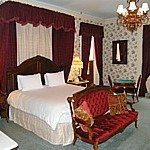 In 1890 the Batchellers hosted what was perhaps the most glittering social event of that year's season when they entertained the Lord Chief Justice of England and the American Bar Association at the mansion.  For the occasion Mrs. Batcheller purchased a couture dress: purchased at a cost of $5,000.00 it is now in the collection of the Saratoga Springs Historical Society.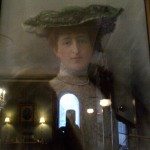 The Batcheller Mansion remains today as one of the most outstanding landmarks of Saratoga Springs. Resplendent with beautiful gardens, architectural detail and magnificent views, this Saratoga Bed and Breakfast now hosts guests in the timeless tradition of grace and ease, reminiscent of another century.
Batcheller named Kaser-el-Nouzha, Arabic for palace of pleasure. Built at a cost of $100,000.00 its three floors contained, among other features, eleven bedrooms, five bathrooms, two steam-vapor furnaces, a music room, a library, and was fully illuminated by gas light.  Its large basement kitchen feed food to the butler's pantry off the formal dining room by dumbwaiters. The plans for the house were considered so unique and its modern features so effective that they were copyrighted.
Having operated as the "Crown Jewel" of Saratoga Springs inns since 1994, the Batcheller Mansion Inn continues to stand ready to offer the carriage trade hospitality of a more gracious era.

Editor's Note:
Batcheller Mansion Inn Bed and Breakfast, Saratoga Springs, New York 20 Circular Street, Saratoga Springs, New York 12866
Tel (518) 584-7012 :: Toll Free (800) 616-7012 :: Fax: 518-581-7746