By Nancy Chuda founder and Editor-in-Chief of LuxEcoLiving and co-founder of Healthy Child Healthy World
"Being deeply loved by someone gives you strength, while loving someone deeply gives you courage."
~ Lao Tzu ~
Where does time go? It seemed like just yesterday when took our wedding vows and walked down the garden path opposite Swan Lake at the historic Hotel Bel-Air.
In 1984, my wedding including the location, catering, a band and floral arrangements cost $10,000. We treated 125 guests, family and friends to our spectacular event.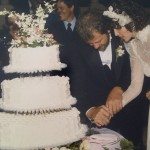 Today, getting married is costly. Every detail from the brides veil to the decorations on the cake add up.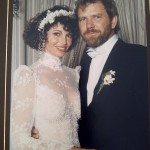 Time passes but there are moments you remember for the rest of your life. Getting married at the Hotel Bel-Air is one of those moments.  A precious keepsake. What you think you may have forgotten comes back in living Kodak colors.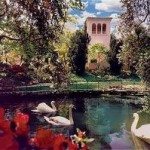 It's history is profound! Nestled in the canyons of Los Angeles, Hotel Bel-Air has been a hideaway for world travelers for more than 50 years. A visionary significant in the development of the area, Alphonso E. Bell created Bel-Air Estates in 1922 when he acquired over 600 acres west of the city of Los Angeles, naming his new purchase "Bel-Air."
In its day Bell included the Bel-Air Stables where residents could board their horses and enjoy the miles of equestrian trails winding throughout the canyons. In 1946 Joseph Drown, a hotel entrepreneur from Texas, purchased 18 acres and began plans to create an elegant pastoral hotel hideaway encompassing most of the land. Drown immediately hired architect Burton Schutt to convert the buildings and construct the 62 rooms of what was to become Hotel Bel-Air.  He transformed the grounds into lush, beautiful gardens, adding Swan Lake to the picturesque front lawn. His vision was to create a natural California oasis, planting palms, ficus trees and perennial blooms. Drown also closed the Stone Canyon stables and built the sparkling oval-shaped pool at the site of the original riding ring when the hotel first opened on August 24, 1946.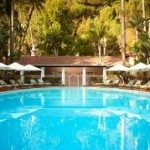 The list of Hollywood celebrities and world dignitaries who have stayed at the Hotel Bel-Air are too many to mention. It soon became and still remains a glamorous retreat for the most notable rich, powerful and famous. John D. Rockefeller celebrated his honeymoon.
Hotel Bel-Air attracted privacy seeking wealthy barons and celebrities which included Grace Kelly, Jackie Gleason, Cary Grant, Elizabeth Taylor and Marilyn Monroe.
What becomes legendary are its historic footnotes. In her time Marilyn Monroe kept her affairs under cover but many were later discovered to have taken place at The Hotel Bel-Air. The allure of destiny, ones own or someone whose persona remains bigger than life attracts human connection. We checked into the suite that was once hers.
Carefully redesigned at the hands of Champalimaud, the hotel features a total of 103 guestrooms and suites. In a classic contemporary, fresh and extremely comfortable aesthetic, accommodations feature an eclectic selection of furnishings and color with relaxed residential style interiors.
Guestrooms include custom limestone floors and natural wood ceilings with rich finishes and textures melded to create a confident style that is clean, full of light and elegant. Twelve new hillside guestrooms and suites offer sweeping canyon views, expansive sliding glass walls, outdoor fireplaces and spacious decks with private spa pools.
The Hotel Bel-Air  exudes grace, elegance and charm. Each suite has been individually designed based on themes that exemplify unique characteristics.
The Chalon Suite's modern classic design ventures back to 1940's dreamland.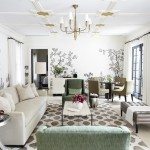 The Grace Kelly suite embodies gracious elegance and feminine charm.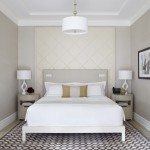 The famed Presidential Suite draws from the hotel's past with reminiscent California style and hints of old stories. This spectacular compound offers utmost seclusion with 6,775 square feet of indoor and outdoor living space, private dining for 10, a chef's kitchen, a study, great room with grand piano, and a private pool.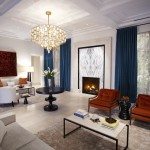 Part of of the luxuriant atmosphere which surrounds the entire property is the inclusion of the the Spa by La Prairie which features a serene relaxation room, unique mani/pedi space and an intimate hair salon. Complementing these spaces are thoughtfully designed treatment rooms, including one Couples Room, where bespoke pink and silver embroidered silk wall paper and subtle ceiling murals of gentle blossoms add a touch of artful luxury.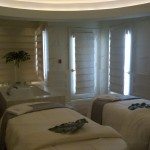 One of four in the world, Champalimaud's design for the Spa is based on an intimate footprint that reinforces relaxation in a quiet environment.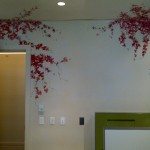 An anniversary is a time to celebrate the joys of today, the memories of yesterday, and the hopes of tomorrow.
We celebrated ours with good friends and dined at Wolfgang Puck's signature restaurant. We were treated to an amazing assortment of appetizers, bite sized morsels of delicious pastries and a mixture of lightly steamed and slightly trimmed vegetables in quinoa and a delectable broth. We had a variety of main course selections, Saddle of Lamb, lightly breaded Dover Sole, and hurray for the Chicken Pot Pie in a pastry pouf that was as light as a feather. Wolfgang has trained his chefs well. Every detail and morsel of his sumptuous cuisine is outstanding.
Some people flock to Chinois on Main Street in Venice California to get a melted tidbit of his classic foie gras grazed in a cinnamon and butter sauce, others stampede to 'get in' to Spago in Beverly Hills.  I think one of the best kept new secrets in his treasury troves is dining WP at the Hotel Bel-Air.
 But still, my memory of two other classic restaurants come to mind
There are very few old golden standards left in our city. Le Dome is gone but never forgotten. Barbara Lockhart's quintessential designs are timeless.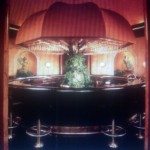 I still have a yen for Chasens famous chili served with real whipped cream. Another great landmark whose elegance and style has never been topped.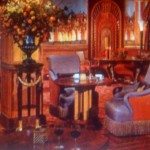 Time did stand still during our stay at the Hotel Bel-Air.  We were catered to by the most gracious staff. Hospitality is a signature for this grand icon, set in a paradise surrounded by acres of verdant greenery in Stone Canyon's famous mansions many of which are hidden by forests of trees. One can't help but feel the history and live with elegance.
A reflection from the past
In the late afternoon, I sat by the infamous pool and gazed up at the clouds. I could see swans floating overhead. Off in the distance at the pools far end, I could just imagine the slight coquettish image of young girl, Marilyn, whose dreams at that time were unfulfilled but today her legendary stance and imagery lives on.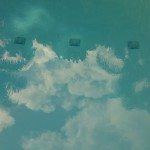 In the cold night air I could smell the scent of eucalyptus. A warm fire glowed beneath the mantle. The logs were placed in perfect form and calculation to provide warmth and illumination thanks to the suburb and attentive staff. Just a touch on the electronic key pads located conveniently in our suite could summons anything from room service to a private massage.
I treasured the moment and gazed lovingly at the man who took my hand in marriage 28 years ago. Where does time go? It did seem like just yesterday. But part of our beautiful memories are being replicated and experienced today at the Hotel Bel-Air with even more detail, elegance and charm.
I thought, here's to the next young couple who will experience all the excitement on their wedding day. That special walk alongside the historic Swan Lake. Taking their vows knowing that their lives will change but the one memory that will linger forever, for countless brides and grooms is the magical beauty of the one and only  Hotel Bel-Air.
"You were born together, and together you shall be forevermore….
But let there be spaces in your togetherness
And let the winds of heaven dance between you."
~ Kahil Gibran ~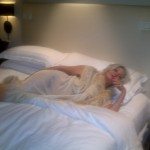 Editor's Notes:
The Hotel Bel-Air is located at 701 Stone Canyon Road, Los Angeles, CA 90077, USA
Make a reservation today.
Tel: +1 310-472-1211, Fax: +1 310-909-1601