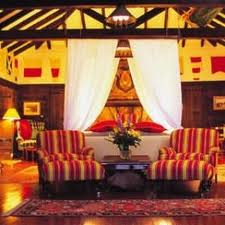 By Nancy and James Chuda founders of LuxEcoLiving and co-founders of Healthy Child Healthy World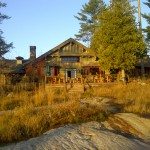 The Point was spectacular in ever sense of the word. Truly a LuxEcoLiving4U experience. From the moment we stepped onto the sacred grounds of this magnificent property, every single wish we had was granted. I have never encountered service with such dedication for detail. I have traveled the world and experienced many legendary hotels…but nothing quite like this.
The Point is the Faberge Egg of inns and retreats…its illustrious history combined with a stellar desire to please makes this a once in a lifetime experience to start… but I know, like me,  you will want to keep coming back for more.
You can't really put a price tag on serenity and seclusion. Most remote resorts  like to give the impression of total solitude, an opportunity to commune with nature, an undisturbed quietude in which as a traveler you can absorb and discover. In some cases you get plenty of that and no service. At all! The reality of being remote sadly becomes one of discomfort rather than comfort. In fact, its not even advisable to sleep in–better to connect with Expedia and find a way out!
I would rather just be. It's so simple. No cell phone, computer or Ipad, just a real book made of real paper. In this case, John's Cheever's, "The Day the Pig Fell into the Well, "had my undivided attention during my stay at The Point.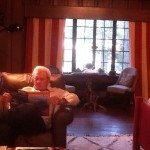 He tells the story of a family coming up to the Adirondacks over several decades and describes the magic of camp life as a routine experience but with the awareness of how precious life is, all in the details."It seemed as if the summer were a continent, harmonious and self-sufficient, with a peculiar range of sensation that included the feel of driving the old Cadilac barefoot across a bumpy pasture, and the taste of water that came out of the garden hose near the tennis court, and the pleasure of pulling on a clean woolen sweater in a mountain hut a dawn, and sitting on the porch in the dark… and the clean feeling after a long swim.
The discovery of Adirondack camp life is all in the details. We slept in and soon were greeted by a small armada of people who take great pride in setting your breakfast table making sure that the freshly baked breads are warm, Stump coffee is hot, and your eggs under the silver canopy are cooked to perfection.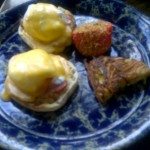 In a luxurious wilderness setting, guests discover their appetites are matched with the finest cuisine. Prepared under the culinary guidance of one of  the world's pre-eminent chefs, Albert Roux of Le Gavroche in London, who left a mark but what followed is a highly motivated creative group of younger chefs who set and even higher bar for excellence in terms of taste and presentation; they use more sustainable and organically grown ingredients and produce outstanding menus matched with excellent wines.
Here is an example of our dinner served at The Point and prepared by Emanuel West and pastry chef Jensen Donaldson.
Pan-Seared Turbot and Sea Scallops Grilled Leeks and Sea Beans in a Sauce Bearnaise
Domaine Huet Vouvray, Le Haut-Lieu, Sec, France 2011
Truffled Goat Cheese Tortellini with Mangalica Prosciutto and Dried Olives in a Pesto Butter Sauce
Pierre Matrot Chardonay, Les Chalumeaus 1er Crus, Puligny Montrachet 2009.
Mushroom and Brioche Stuffed Quail Sea Island Ref Pea Ragout Slow-Braised Kale Pink Peppercorn Jus-
Nicolas Potel Pinot Noir, Aux Echanges 1er Cru, Chambolle-Musigny, Burgundy, France, 2003
White Chocolate Meyer Lemon Tart, Grand Mainier Sabayon Buddha's Hand Sorbet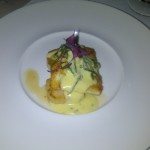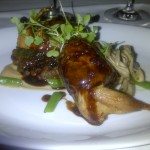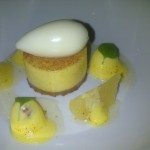 I've been a camper most of my life and I do enjoy the benefits of "roughing it." But as I have aged, I'm not one to want to chop wood and carry water. I would rather sit back in my Adirondack style chair, gaze at a wild and preserved territorial vista, sip tea in the comforts of my room in front of a raging fire and drop off to sleep without the interference or static of the world at large. Doesn't that sound appealing?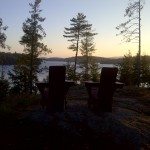 And if you're a guest at The Point and you do happen to crave something in the middle of the night, all you have to do is ask for it. On your bedside table, you will see an old fashioned black telephone which requires just one finger.. to dial.. in a circular motion, something most techies have never seen. Imagine that!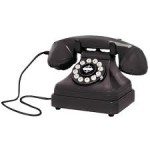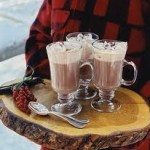 Editor's Notes:
A special thank you to Emanuel West, Jensen Donaldson, and Jacob Kipping.
Contact The Point-800-255-3530-email-point@relaischateaux.com