By Nancy and James Chuda founder of LuxEcoLiving and co-founders of Healthy Child Healthy World
The Best Cheese in the World Series
LuxEcoLiving caught these cheese celebrities free ranging. Did someone say cheese?
Did you say cheese? We're not talking Velveeta. Although, let me say that was my first non- real cheese experience. Back then, pasteurized cows milk produced thin sliced squares squares of something orange in color. All moms made us eat them thinking thet would build strong bones. They slathered mustard and mayo between two pieces of white bread and called it a cheese sandwich. Four little squares, soft and sometimes mushy (around noon) with a carton of  milk was considered a healthy lunch.
Or how about a melted cheese sandwich before we had the Panini press. Remember your first recipe that your mom taught you? Using two thick slices of Velveeta fried in a pan with plenty of butter. Back then nobody was counting their colesterol.
Well, Daisy cow, Emily goat, and Billie Barb sheep, have come a long way; from pastures to curds, some stinky, bloomy, soft, hard, wet, wine soaked, and olive oil rubbed… our girls have been busy making the most delicious, (consumptuous) lactose intolerant cheeses… some are even proprietary recipes, caved aged by masters who are meticulous about the finite details of refining their cheeses.
The experience of  dining on cheese  with a few good friends  is a totally delectable even sensual experience. And what I love, is the totally unique experience, the experience, of  tasting cheese brings to the party.

Two of the best cheese stores in the world are Venissimo of California with four locations. And if you are a really serious cheesemonger, head to Murray's of New York. Here are my favorite pics.

From
Venissimo
you have to try the
Moliterno- MOL-LEE-TEAR-NO
.
First you have to learn how to pronounce it. And if you love the taste of truffles try the
Basilicata (Italy) which is veined with the precious and luxurious truffles then rubbed
with olive oil. Gina recommends all the pairings and suggests a
Barbera Amontillado.
Don't miss the dense and intense, fruity and nutty taste of the Pico-Affine from Perigord France.
Two more you will love:
Blue Paradise- USA HOOK

CHEESE

from Wisconsin
– CAVE AGED
DOUBLE CREAM
Best Served  with a Sauterne, Rose, Riesling
We got plenty of Kudos for KODOS-  A Delightful Gouda from the Netherlands
with coconut cream- incredible desert
cheese
with chocolate or port.
Best served with a Pinot Noir or Port
Here are the pairings Gina sent… do not miss the Harvest Song walnuts from Armenia.
Serve them with the Blue Cheeses. Also the Salted Pistacho honey from Texas which is a signature
Pair this with a crisp Chablis. Next, the
Barden Blue Bardwell farms- is a blue
cheese
known to convert blue

cheese

haters into cheesemongers.
The one cheese from Murray's you will continue to crave long after the last lick off the plate,
is the Hudson Flower- a Murray's exclusive form upstate. A  round of fresh,
uncased kinderhook Creek- crafted at Old Chatam  Sheeperdine Company-
The Hudson Flower is an exclusive propriatary blend,
of rosemary, lemon, thyme,– made from organic sheeps milk.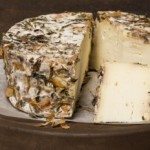 Blanc Blue Tambor-
is a wonderful raw goats
cheese
imparts a clean but complex flavor.
Editor's Notes:
Here are some wonderful pairings from Murray's.
Crackers-Sheridans Cheesemonger
Urban Oven- Classic white- Artisan baked
Boat Street French Plum Pickles
Bee-Raw- Colorado Star Thistle Honey