By Nancy Chuda founder and editor-in-chief of LuxEcoLiving and co-founder of Healthy Child Healthy World
The Worlds Greatest Cheese and Cheesemongers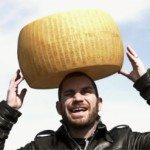 Before Adam Moskowitz found his true calling and became one of the biggest cheese importers in the United States, he had inherited a triple cream ancestry as the son of the man who introduced cave-aged Gruyère to the United States.
Moskowitz, claims his early introduction  revealed a "cutthroat" trade run by "dirty old men" who would "do anything for an edge." But later in life he learned the love of cheese, a passion which he claims saved his life.
I caught Adam in the raw, not pasteurizing but proselytizing his thing called cheese and now I am hooked!

Adam hosts an annual Cheesemonger Invitational-a high-profile cheese competition (and all-you-can-eat party) at Larkin Cold Storage, his family's 40,000-square-foot warehouse and logistics hub in Long Island City, Queens.
If Tony Soprano only knew what the biggest cheesemonger on the block had in cold storage he might have brokered a deal to keep the series alive.
Moskowitz is the guy to talk to about cheese. He's all over the map expanding his luminary domain from European imports to America's fastest growing farmstead-cheese industry.
From "maker-to-monger," no holes bared, not even for swiss cheese, Adam holds the key in the supply chain. Without his moxie and love of cheese, connoisseurs as well as the incredible vendors Larkin supplies would be strung along nibbling on plastic wrappers.