By Nancy and James Chuda founders of LuxEcoLiving and co-founder of Healthy Child Healthy World
A Restaurant Review: S.Y. Kitchen is a dream come true!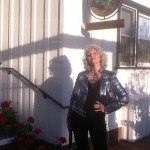 We had the best time when we traveled to Italy. We ate our meals in the charming hill top towns. Sometimes we would drive without a road map having learned about a fabulous place for pizza and homemade pastas.We relished the fresh fettuccine in Rome and Florence.
All wonderful memories never to be rekindled in terms of taste… or  so I thought…. until I pulled on my NYDJ's (perfect for all occasions) and stepped into my custom made Back at the Ranch Travels with Journey cowgirl boots, through on my Double D Ranchwear Diamond Blue jacket and headed down the block… where I discovered the place EVERYBODY IS TALKING ABOUT.
Most locals know a good thing. As soon as S.Y. Kitchen opened its doors, like the Pony Express, texts started flying at lightning speed describing sumptuous morsels of food, followed by instagrams; pictures of homemade pastas, baby T-Bone sliders, organic salads, wines from Italy and real gelato.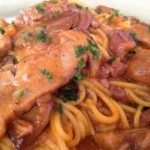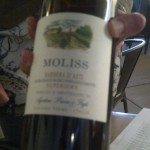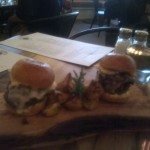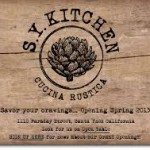 Without hesitation and with no traffic, it took less than eight minutes to arrive at the charming little white house, (once a realtors office) now home of S.Y. Kitchen. And the kitchen is the heart of this amazing new touchstone, a real gem from start to finish, due in large part to the dedication of its chef, Luca and his brother Francesco.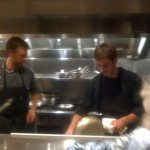 S.Y. Kitchen is so so good!  Mike and Kathy Gordon decided to transplant themselves from their posh celebrity neighborhood in Brentwood California, where they made their first mark with Toscana, to the rustic and western clad town of Santa Ynez.
Toscana is a highly esteemed restaurant which more than satisfies the locals food cravings for authentic Northern Italian cuisine.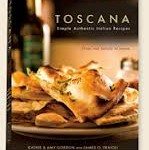 It was created out of Mike Gordon's dream of having his own restaurant.  His passion was ignited by the inspiration of Doc Severinsen whose enthusiasm for everything Italian led them to opening one of LA's original Tuscan Trattorias.  Together they assembled the best team of Italian chefs and waiters who not only introduced the most amazingly simple Northern Italian food, but who taught all of us Angelenos how to appreciate their Italian way of enjoying food and wine.
And it remains in Brentwood California where hazy ozone particulate filled skies and traffic jams wreak havoc on Angeleno nerves.
Picture this. You are out in the boonies surrounded by the smell of fresh cut hay and off in the distance you can hear the sound of horses hooves clip clopping through the streets. Gas is still $4.41 cents a gallon but when you own a Prius who cares!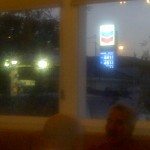 Santa Ynez is a large ranching community. Cattle graze across miles and miles of open space. But the hub, or watering hole, is six square blocks people call town. One coffee shop, a US post office, a thrift and liquor store, creates its center but more prominent locations, The Feed Barn, The Santa Ynez Inn, and the Burger Barn provide warmth, hospitality and the best locally grown beef at darn good price..including THE sweet potato fries.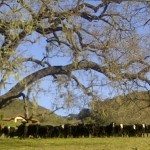 And craving fine Italian food is why S.Y. Kitchen will build a bold reputation. Not just in Santa Ynez but the entire world.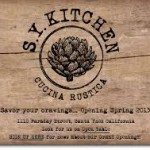 Yes, there is another Italian restaurant in town but the food just can't compare to the organic roots that Luca and his team bring from Verona. You can't replace that kind of authenticity. Nor can you find the magical heartfelt dedication that he brings to every plate he prepares.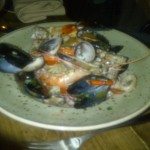 "I prepare everything fresh everyday. I buy direct from the local farmers and my fish comes from the Santa Barbara Fish Company."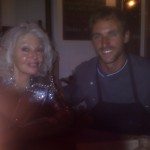 Luca's presentations are equal to if not better than what you would experience in Italy. He told me the secret to all his preparations. It begins with his favorite local olive oil from his native roots in Verona Italy. Ora Crudo.
"The pasta making is very labor intensive. We make each type of pasta by hand and roll it out and store it but use it all in one day. " And you can taste the difference. I couldn't resist twirling my fork around the pasta fresca served with Luca's house specialty, Frutti de Mare.
I ordered the Branzino which was so light and delicate
This was an exceptional experience! When we got to the end of our three courses Luca offered his very special, homemade, (secret recipe) from Verona.  Chocolate Gelato- OMG!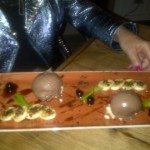 One could languish for days, spoon to mouth without need for resuscitation.
Get ready for a pure splendor in the golden grass dining experience in the country surrounds of this charming little bit of Italy which serves the best Cucina Rustica I have ever tasted!
Imitation gelato makers beware! Now that Luca and his brother Francesco are behind the scene at S.Y. Kitchen… It's under wrap. And if you feel like Tiramisu… take my advice… don't even ask for more than one spoon.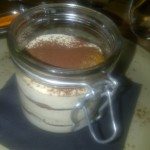 Editor's Notes:
Call for reservations-805-691-9794
S.Y. Kitchen 1110 Faraday, Santa Ynez, CA 93460