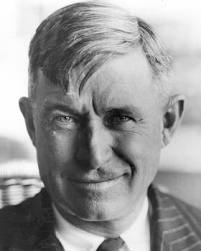 By Nancy Chuda founder and Editor-in-Chief of LuxEcoLiving and and co-founder of Healthy Child Healthy World

The Citizen Hotel in Sacramento is a dog friendly, highly praised and prized hotel.
And he stayed there too!
Dogs are not political animals. They don't know left, right, or center. They just know how to trust and love.
They just can't fake it! Some show their love in ways humans can't.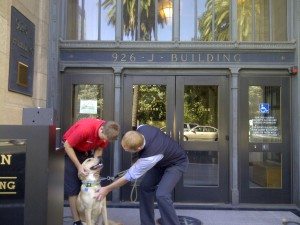 Journey can scent a great place the moment he walks in the door. He's become quite a connoisseur  for the best pet friendly hotels in America. He's even been welcomed into the Fairmont Hotels illustrious list of Dog Ambassadors.
Now he was about to be inducted into the historical political archives of the world famous Citizen Hotel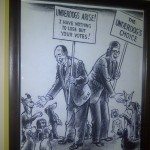 I had to reckon with his enthusiasm. He was doing flips and high flying acrobatics when they rolled out the green carpet. Kyle was great! Journey was thirsty and hungry. Within minutes of our arrival were heard a knock at our door. Room service please!

The Citizen Hotel's history is filled with interesting political anecdotes and art. Some of the original drawings, satirical images of politicians gerrymandering and stumping which appeared in the Sacramento Bee are present. If only the walls could talk!
"The more one gets to know of men, the more one values dogs." – Alphonse Toussenel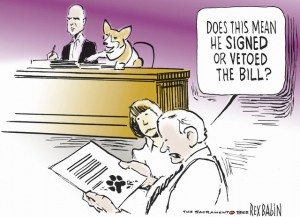 "I love a dog. He does nothing for political reasons." – Will Rogers …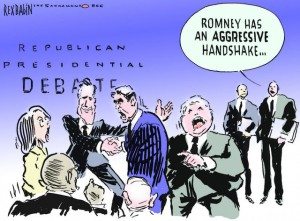 Speaking of politics, I happened to notice a few demonstrators near the state capitol.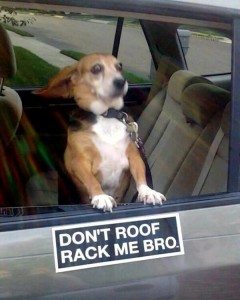 Dogs have always been man's best friend but some politicians have taken the heat. Dogs Against Romney is a socially driven media campaign that began after an incident in 1983.
It happened more than a quarter century ago, at the start of a Romney family summer vacation. But the tale of Seamus, the Irish setter who got sick while riding 12 hours on the roof of Mitt Romney's faux-wood-paneled station wagon, is ballooning into a narrative of epic proportions.
Talk about being tagged, don't mess with dog owners.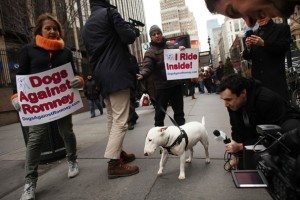 Romney did not simply strap Seamus to the roof. He attached a dog carrier to the roof rack of the family's Chevrolet station wagon — the "white whale," as his boys called it — and assembled a shield to protect Seamus from the highway winds.
Poo poo! Poor political move if you ask me!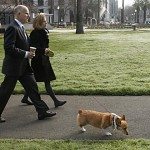 I bet Governor Jerry Brown's dog Sutter hasn't had a LuxEcoLiving treat! Getting to spend an entire weekend at The Citizen Hotel plus room service from the famous Zagat rated Grange Restaurant and Bar was fantastic! Locally grown and Grange crafted, all of our room service meals were excellent. And during the month of October, Chef Oliver has  agreed to take part in this year's Vegan Chef Challenge.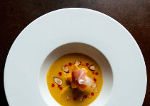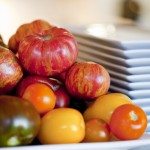 History proves that our presidents and first ladies have always loved their pets.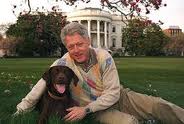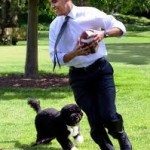 While in Sacramento we even got to stump around a few old growth trees on the grounds of our state capitol.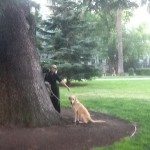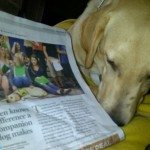 Journey was feeling the heat! It was 100 degree's and we decided to stay cool, and read the Sacramento Bee. We read an article, I Care by Autumn Cruz which demonstrates the hardest part about raising a puppy for Canine Companions for Independence. We were so proud to discover a 10-month old lab in training named Halo who will someday become a service dog.
 It all started to make sense. Dogs like people need a noble purpose. While traveling across America discovering some of the best LuxEcoLiving pet friendly destinations I realized we could do a lot more. Journey gets his real treats from people who show him love…. and he's got plenty to give back. Wait and see!
Editor's Notes:
Journey is not a party animal. He doesn't care who wins any election. But he does care about this!
  He  called for a Closed Door Session at The Citizen Hotel. House Rules!