By Nancy Chuda founder and Editor-in-Chief LuxEcoLiving and co-founder Healthy Child Healthy World
"Architect James Chuda's Green Home has been called the "Fabergé egg" of the green design world." Barbara Lockhart International Designer of the Year 2006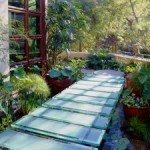 The Los Angeles Magazine's Design Green Home of the Year
When international interior designer Barbara Lockhart came on board she convinced publisher Alan Klein (Los Angeles Magazine) to motivate other designers to tap into what would soon become a burgeoning green marketplace.
Klein gave a green light to the project.
"We launched DesignHouse 2005: The Green Home to help the Chudas educate people how to fuse a healthy home lifestyle with a finely honed design aesthetic."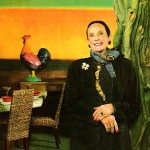 Lockhart became Honorary Chair of the Design Committee  and summoned Suzanne Furst then president of ASID to assist with the translation of impeccable interiors utilizing green materials. Others followed suit. Troy Adams, Leslie Harris, Sari Ehrenreich, Greg Grande, Kristine Kamenstein, Meg Kalhammer, Carla Sofia, Paula Lechman-Testa and master wood craftsman, Cliff Spencer. Jim Hellinger, landscape architect created an organic vegetable garden with sustainable water conservation landscape features. Pond specialist Peter Logan bridges the connection to nature with a beautiful water garden entry.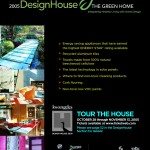 Everyone in American got to see The Chuda's Green Home on Oprah and there are over 32,000 views of the Muse Elementary School visit on YouTube.


Chuda wanted the public to experience a home that truly connects with nature
and nurtures a healthy creative lifestyle.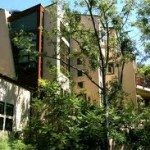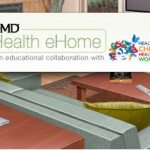 A virtual Healthe Home was created to educate parents about safer alternatives in their home environment
As co-founder of Healthy Child Healthy World he wanted to show why we should eliminate toxic off-gasing materials from or home interiors.   Indoor air pollution is the biggest cause of  childhood illness  such as asthma.
"We seal up our homes, which are filled with toxic materials that off-gas residues, many of which are hazardous to our health. Especially children who are more vulnerable"
Having lost a child to cancer at age 5, Chuda's inspiration was to build a research laboratory to educate future home owners. "We need to limit the use of toxic materials and provide healthier home environments."
"American children and adults spend 90% of their time indoors."
The Environmental Protection Agency ranks poor indoor air quality among the top five environmental risks to public health.
Asthma rates have doubled over the last 20 years, according to the U.S.Centers for Disease Control and Prevention (CDC). Asthma attacks are triggered by indoor air pollutants.
Education is the key. Not only to potential new home buyers but to people like brokers and appraisers who set the bar for real estate.
Jay Tucker Elm from Sotheby's International calls The Chuda's Green Home, "glamorous and earthy."

"This is something everyone in America has to see, the Chuda's Green Home." Oprah Winfrey
Buyers need to make appropriate decisions not just based on  economics but the real value should be health.
In today's competitive marketplace the MLS systems lack sufficient means of measuring  benefits of environmentally friendly properties.
When it comes to energy efficiency and "green" features in homes, there's a chasm-sized disconnect in the marketplace among consumers, real estate appraisers and the nation's realty sales system. On the one hand, prospective buyers routinely tell researchers that they place a high priority on energy-saving and environmentally friendly components in houses. The presence of high-efficiency systems in a home makes shoppers more interested in buying because they'll save money in the long run.
But the real value is not about saving money. Money can't buy health.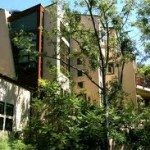 Editor's Notes:
A very special thanks to Barbara Lockhart whose lifetime achievements include; recipient of the S.M. Hexter Award for the Most Outstanding Interior Designer in America; the ASID Lifetime Achievement Award; the Beverly Hills Architectural Achievement Award. Voted one of Christie's Twenty Innovators of Twentieth Century Style.
A Greenprint for Healthy Living is something the Chuda's spent years developing.
The Green Home includes:
 1.Double glazed insulated windows
2. Garage detached from main structure – minimizing toxins in home
3. Low flush toilets
4. Energy saving refrigerator & oven
5. Formaldehyde free, all natural insulation from denim waste
6. Energy saving washer & dryer
7. Cork flooring
8. Bamboo flooring
9. Palmwood flooring
10. Grass Pave-recycled plastic cells with sod (driveway)
11.Walls of structure made of 60% concrete
12. Structural orientation to minimize heat gain from the sun
13. Lower floor is below grade, which minimizes heat gain and loss
14. Upper floor is ventilated to allow for hot air removal
15. Energy efficient heating system
16. Standing seam metal roof with reflective paint; reduces heat gain in atmosphere, helps reduce global warming, reduces heat gain in home
17. Grid point energy system system, manages use of energy from renewable sources, solar photovoltaic panels, provides back-up power, eliminates need for generator and storage of toxic fuels
18. Efficient use of skylights t0 minimize need for artificial daytime lighting
19. Steel exterior railings and window frames; low maintenance, long-lasting, can be recycled, no toxic wood preservatives needed
20. Life Source whole house water filtration system
21. Irrigation drip system
22. Landscaping/use of drought resistant plants
23. Low VOC paints & stains
24. Lead free paint
25. Plyboo (bamboo plywood) cabinetry with non-toxic glazes
26. Electronic air filtration system
27. Energy efficient tankless hot water system
28. Solar exterior landscape lighting
29. Built-in vacuum system-vented to outside
30. Composting garbage system
31. Organic herb and vegetable gardens
32. Recycle bins in kitchen
33. No wall-to-wall carpet
34. 100% organic, allergy-free mattress & bedding
35. Reduced flow showerheads
36. Recycled glass, aluminum and bronze tiles
37. Non-toxic cleaning products
38. Biodegradable detergents
39. Organic Beechwood fiber towels
40. Aromatherapy steam shower and chromatherapy spa tub
41. Hemp & sandalwood scented blinds
42. Fiberglass free environment
43.Water gardens which naturally cool surrounding air
44. Chlorine free spa
45. Pesticide free landscape
46. Large leaf plants to minimize indoor air pollution
47. Smoke free residence
48. Chemical free products for pet care and hygiene
49. Minimum storage of dry cleaned garments
50. Minimized Electro-Magnetic Field (EMF) exposure
51. Compact florescent and LED lights
52. Recycled & petrified wood furniture
53. Marmoleum (natural linseed linoleum) floors
54. Recycled, no glue-carpet tiles for floors
55. Recycled coconut shell chip furniture
56. Natural clay paints for interior walls
57. Decorative recycled broken glass for landscaping
58.Woven grass & papyrus paper wall coverings
59. Organic wool area rugs
60. Stone pebble tile floors with natural (uncolored) grout
61. Limestone based paints – interior walls
62. Organic linen & raw silk window coverings
63. Kirie wood shelving; laminated, dried reed from sorghum plant
64. Lyptus wood cabinetry from managed Brazilian forests