By Nancy and James Chuda founders of LuxEcoLiving and Healthy Child Healthy World
I was craving cheese. Not just that typical stinky cheese you find in a round wooden box. I was searching for fresh, cave aged, unadulterated cheese from France.
Most supermarkets carry different brands of Brie but they haven't a clue as to where some of the finest cheeses are procured. We're talking Pyrènées where the goats run free and the affineur's who cherish their fromage keep a mindful watch on their herds.
The Cheese Store of Beverly Hills has one of the finest selections of imported cheese. Not only cheese but an incredible collection of champagnes and wines too.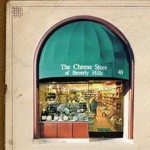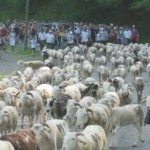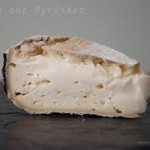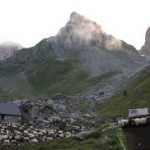 Thanks to Erik Kelly's brilliant pairing we sampled Gabriel Bachelet "Navarré." A fantastic semisoft cheese covered with just about everything aromatic and tasty you would find growing in the Pyrènées! All sorts of peppers, herbs and spices meld into the rind of this mixed milk cheese creating an extremely mouth watering experience. And speaking of mouth watering. He paired this delectable cheese with Inception Winery's newest release which is by far their best. 100% Chardonnay fruit from Good Child vineyard in Santa Maria makes this wine 100% awesome. It is the perfect pairing for Mothers Day.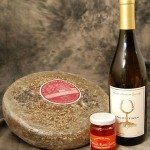 The history about french Brie cheese is quite interesting. In 1936, Ile de France Brie was brought to the United States aboard the famed Ile de France ocean liner – the first refrigerated sea vessel. It was the first time Americans had access to the delicate French fromage. Ile de France takes its name from the famous ship and continues to supply authentic French Brie to American cheese lovers.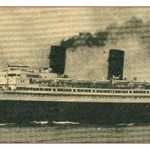 But nothing, nada, can compare to Erik's pic from Il de France which he selects personally. Located about an hour from Paris, his special Brie is located in the Champagne district. This triple crème cheese, at over 75% butter fat, is like the world's best room temperature butter. In fact it is better than butter especially with the bubbly from Henriot Brut Souverain. A Non Vintage at only
$48 a bottle. It has a classic nose of bread, yeast, light honeysuckle and minerals. There is no mistaking it for anything other than great Champagne. It's definitely smooth, especially when you get to the third glass. And that we did.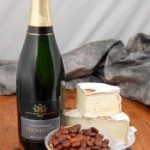 You could wait till the cows come home to taste the treasure of their curd or you could host an intimate gathering on a warm pre summer day and enjoy the expressions of the ladies paired in white linen and the men relaxed and relishing the great cheeses of France flown in fresh thanks to the Cheese Store of Beverly Hills.

 Groucho Marx was never one to pass up an opportunity for a play on words and this occurs in his dialogue of the 1933 film Duck Soup: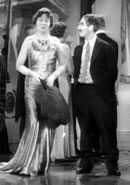 "I could dance with you till the cows come home. Better still, I'll dance with the cows and you come home."
LuxEcoLiving's Best Wine Pairing Pic of the day was Liquid Farm Rosé 2012, Vogelzang Vineyard Santa Barbara County
Editor's Notes:
There is only one way to serve cheese. Go to www.lunareshome.com and pair your cheeses on an artists palette designed by Nima Oberoi.