Travels with Journey- Fisherman's Wharf San Francisco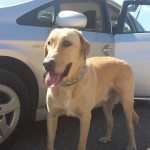 Sleepless in San Francisco
It was 6:00 am in the morning. Duty calls! Journey had already consumed 5 bottles of  complimentary filtered water given to HIM as a gift from The Kimpton Argonaut Hotel's Concierge.  Jim was fast asleep in a king sized bed and cozy mattress made in heaven with sheets from Italy. It was the BEST NIGHTS SLEEP I had in years! A priceless 6 hours!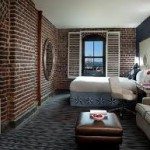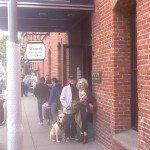 I was already tying up my shoe laces and getting ready to go! Journey's patience and bladder control is just one of his priceless labradorable traits! A quick make-up application using my absolute favorite products for sun protection. Never leave home without COOLA. Try their unscented organic tinted sunscreen and you'll  throw all of your expensive cover-ups away. This is the best product on the market.
Journey nudged Jim, I made a quick Starbucks Coffee as part of our in-room amenities, and within minutes we were all  ready to go exploring. First stop, the beach and a short hike uphill to Fort Mason.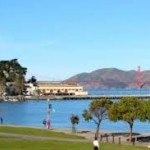 WATCH!
Journey left his heart in San Francisco the first time he stayed at The Fairmont Hotel overlooking the city.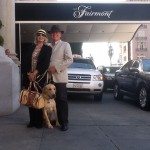 This time he was treated to a totally new experience thanks to Kimpton's Argonaut Hotel down by the famous Fisherman's Wharf. We had a spectacular suite designed to replicate a luxurious upper class residence set to cruise. Journey had a private room, a plush bed and room service to boot!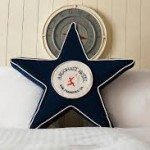 WATCH!
If your like me and crave oysters there is only one place to go in the city. The Swan Oyster Depot. Be prepared to wait but is so worth it! WATCH!

San Francisco is a great place to visit with your pet. There is so much to see and do. So many dog friendly zones and restaurants.

When we got home Journey was literally pooped! (no kidding). And so was I! Jim did what he does best. He put him to sleep using Dr. Harvey Karp's best selling book and DVD series from the Happiest Baby on the Block. WATCH! The Lab Whisperer. It really works!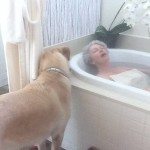 Editor's Notes:
Book your stay and please tell them Travels with Journey sent you.
ARGONAUT HOTEL

495 Jefferson Street

San Francisco

, CA

94109

 

Reservations:(800) 790-1415

Hotel:(415) 563-0800

Fax:(415) 563-2800