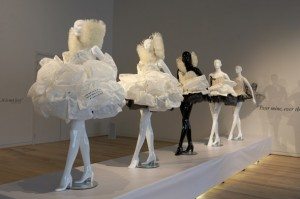 The trend towards low-cost "throw away" fashion has resulted in a stratospheric increase in sales.  However,  according to Ecouterre the results have not been so flattering to the environment.  Using Britain as an example of this worldwide phenomenon, approximately 74% of the 2 million tons of clothes they buy each year find their resting place in landfills. "In order to reduce fashion's impact on the environment, the fashion industry must begin to challenge conventional attitudes and practices," says Jane Blohm, a fashion lecturer at the Sheffield Hallam University.
So, she has tasked her students with finding alternatives. How about a biodegradable dress that blends technology with style to create the ultimate sustainable dress?  Students and researchers at the university have developed a non-toxic and odorless textile called polyvinyl alcohol that dissolves when wet.
Since wedding dresses are typically worn once, it was the perfect vehicle to showcase a new approach to design that would reuse a dress, lengthening its lifespan, and biodegrade completely once the garment to longer serves a use.   However, the dress dissolves in various stages to produce five other garments to be worn long after the honeymoon.
The dress is scheduled to be on exhibit at the Sheffield Hallam University exhibit, "A Sustainable Marriage."
Read more about it at Stylist.com