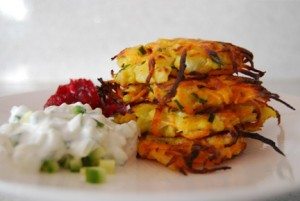 By Lorri Ballance Laird, LuxEco Advocate
Laurie stressed that everything in her new book, The Family Dinner ,  has been tried in her home.  "Everything in this book, I have done in my home over the last decade. The book is filled with fantastic family food.  It's all been successful, and now I am passing it on to everyone else," she told us.
As we are in the midst of Hanukkah, LuxEco asked Laurie if she was doing anything special for the holiday. She told us that she was planning to try something different: Cauliflower and Sweet Potato Latkes. She and her two teenage daughters made this recipe together to celebrate the festive occasion:
Cauliflower and Sweet Potato Latkes
You Need:
1 large head of cauliflower, about 1 1/2 lbs
1/4 cup finely diced onion
2 lightly beaten eggs
3/4 cup flour (or corn starch)
1 large sweet potato, grated
2 Tablespoons chopped parsley
1/2 Teaspoon salt
Pepper to taste
Vegetable or grape seed oil
Cook's Tip:
To get the lacy crunchy edges, grate the sweet potato lengthwise ; to get long strands  for neat, round little patties, grate finely instead.
To Make:
Chop up the cauliflower and microwave in a covered bowl without water until easily pierced by a fork. Mash the cauliflower, then toss with the remaining ingredients, except for the oil.
In a large, nonstick skillet, heat a goodly drizzle of the oil over medium-high heat. Make the pancakes by placing 2 tablespoons of the batter onto the hot skillet, flattening them with the back of the spoon. Sauté until the bottom of the pancakes are nicely browned – between 3 and 5 minutes; flip the pancakes and cook for about 3 minutes longer. You will probably have to make them in a few batches, so keep the first ones warm in a 200 degree oven, on a cookie rack placed on a cookie sheet.
Serve with tzatziki and cranberry sauce or apple sauce and sour cream .