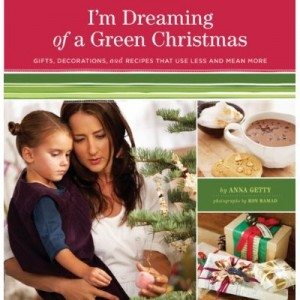 By Lorri Ballance Laird, LuxEco Advocate
The Christmas season is upon us, and people everywhere are gearing up for the holiday.  In her book, I'm Dreaming of a Green Christmas; Gifts, Decorations, and Recipes That Use Less and Mean More, author and LuxEco Advocate, Anna Getty shares with us  her ideas on how to create memorable traditions while taking small steps to reduce our carbon footprints, minimize waste, and creatively use what we already have.
Anna's memories of the simple Christmases she spent with her family growing up as well as her growing need to live a greener and more sustainable lifestyle inspired her to write the book.  "I wanted to take the traditions that are already out there and simplify them so that the holidays are less stressful," she says.
Anna is also inspired by nature and believes that the holiday season is a great time to spend time outdoors.  "I know that when I am in nature, I am at peace.  The holidays are a great time to spend time in nature, because it is a time when we are all so stressed and there is this pressure to do so much."
Her book is filled with crafts that make use of natural, edible, and found objects, including projects like nature garland, twig star ornaments, and pine cones with recycled glass.  Anna believes that making crafts together as a family also creates lasting memories.
Anna is a strong advocate for just sitting back and relaxing with a hot cup of cocoa, as well as sharing good food with family and friends. Her book is chock full of delicious recipes that "make use of the bounty of the season."  Recipes like Chai Hot Cocoa with Whipped Cream.   Some of the recipes are variations of those from her childhood, while others are favorite recipes she has created throughout the years.
The American culture is one of consumerism and excess, especially during the holidays.  Anna says that between Thanksgiving and the New Year, the amount of waste generated in the United States increases by 30%.  "The holidays are a time to aspire to something better," Anna says. "It's a time of giving; a sacred time. It's not an excuse to generate a whole bunch of waste just because it's once year.  Our excesses are taxing the resources of our eco-system.  We have to do better."
With that in mind, here are some of our favorite tips from Anna Getty's book ( which will make a great gift too) I'm Dreaming of a Green Christmas:
When it comes to your Christmas tree, real is best and live is even better.  There is a huge debate over artificial versus real and the pros and cons of both, but it seems that most environmentalists agree that a real tree is "greener," because it is biodegradable and recyclable.  In addition, fake trees are made of PE and PVC plastics, which pollute the air during manufacturing and may have harmful lead in them.  Anna recommends organic trees and says there are many more lots that are selling organic trees.  Check out greenpromise.com for a list organic Christmas tree farms in your area.
Send e-mail holiday greetings.  If you must send holiday cards, choose those on recycled paper. Or, even better, send Bloomin' Flower Cards, which are biodegradable and embedded with seeds.  Recipients can plant the entire card and enjoy a lasting gift long after the holidays are over.
Burn all-natural man-made logs like Java-Logs.  These logs are made of recycled coffee grounds, are 100% natural, and compostable.
Use LED holiday lights, which use 90% less energy than typical incandescent holiday lights.  Also, put your lights on a timer instead of leaving them on all night.
Think recycling when it comes to wrapping and shipping.  Use recycled brown craft paper and decorate with rubber stamps, or use leftover fabric  tied with ribbons to wrap presents.  When shipping, reuse cardboard boxes and purchase only recycled envelopes.  Be sure to make just one trip to your shipping location, or look into having packages picked up at your house.  The U.S. Postal Service and most shipping companies will make home pick-ups, which you can request online.
Use soy or 100 percent beeswax candles. Most traditional candles are made out of petroleum, which can give off harmful fumes when burned.
Look for gift cards printed on bio-plastic. According to Anna, Target is one retailer that uses this type of "plastic" that is made from corn sugar.