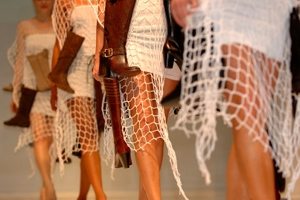 by Jessica Borges, LuxEco Editorial Assistant
As you're staring blankly into your "so last year" closet full of drab clothing that you just can't bear to don again this summer, why not make some wardrobe changes that make both you and the earth look good? Over the years, eco-conscious clothing has seen its ups and downs. But as we embrace today's understanding of how toxins and harsh materials affect our earth, we hope that green fashion will stick.
Fashion is famed for styles that change with the seasons, though some designers and brands are beginning to focus on using sustainable and ethical products in their pieces. Over time we've seen what seemed like wonderfully colored clothing that turned out to have synthetic dyes with arsenic that led to health issues when inhaled. We've also seen trends of ultrasuede non-biodegradable dresses that do no good to the earth. But on the positive side, trends of handcrafted garments made from hemp have also made fashion debuts.
The "Eco Fashion: Going Green" exhibit at the Museum at the Fashion Institute of Technology in New York City is showing 250 years of clothing that ranges from eco-friendly to down right eco-painful.
For an inside scoop on the trends of eco-fashion over the years, check out this recent article by Booth Moore, Los Angeles Times Fashion Critic.
And if you're looking to revamp your shoe collection this summer as well, you may want to consider TOM's new, natural wedge shoes.