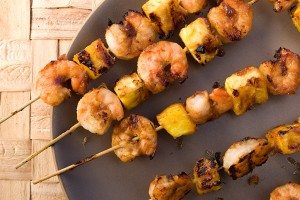 By Alanna Brown, LuxEco Editorial Assistant
What says Fourth of July better than friends, fireworks, and good food? For a traditional celebration, not one of those three can be sacrificed. However, you can make healthier food choices without sacrificing flavor. Believe it or not, there are healthy alternatives to the yearly cheeseburgers and hot dogs dripping with grease, and that fattening potato salad. CBS News has shared with us some great recipes that will leave you and your friends satisfied and guilt-free to enjoy the fireworks.
Start by replacing your cheeseburger with a turkey burger stuffed with zucchini and mushrooms, from Spark Recipes.
You will need:
4 ozs of 94% or more lean ground turkey
1/2 cup of the following diced veggies:
Zuchinni & Mushrooms
3T shredded carrots
1 tablespoon dehydrated onions
1 teaspoon onion powder
.5 teaspoon garlic powder
.5 teaspoon coarse black pepper
Salt to taste
Directions:
Finely dice your veggies and put in a large bowl… add your ground turkey and your seasonings and mix well by hand, all the ingredients and shape into a patty. Some of the veggies will fall out, so press the loose ones on top of the formed patty.
Spray a skillet with canola or safflower oil and heat, using medium/low; the burger will be very large and you don't want to cook it too fast. When heated, add your burger and cook until brown and firm and turn over, and cook until done.
Internal temperature should be 165 degrees.
Serve on a hamburger bun, pita pocket, flavored tortilla, with lettuce, tomatos, etc, or alone with a salad.
Then, substitute the usual hotdog with a pineapple-glazed shrimp skewer by Chow.
You will need:
5 cups pineapple (from 1 large pineapple, about 5 pounds), large dice
1/2 cup packed light brown sugar
1/2 cup white wine vinegar
1/4 cup soy sauce
2 medium garlic cloves
1/8 teaspoon cayenne pepper
36 extra-large shrimp (about 2 pounds), peeled and deveined
Vegetable oil
12 (10-inch) metal or wooden skewers
Directions:
Combine 2 cups of the pineapple, the sugar, vinegar, soy sauce, and garlic in a blender and blend on high until smooth, about 30 seconds. Pour into a medium saucepan and bring to a boil over medium heat.
Skim off any foam and reduce heat to low. Simmer until glaze is thick and syrupy enough to coat the back of a spoon and has reduced to about 3/4 cup, about 30 minutes. Stir in cayenne and set aside to cool slightly, at least 5 minutes. Meanwhile, heat a gas or charcoal grill to high (about 400°F) or a grill pan over high heat until very hot.
Skewer 1 shrimp, making sure to pass the skewer through the thick portion and the tail portion, then skewer 1 piece of the remaining pineapple. Repeat, alternating between the two and leaving no space in between, until you have 3 shrimp and 2 pineapple pieces per skewer. Brush skewers on one side with glaze.
Rub the grill with a towel dipped in vegetable oil, place the skewers on the grill glaze side down, and brush the other side of the skewers with more glaze. Continue brushing and turning every few minutes until the thick portions of the shrimp are white and firm, about 15 to 20 minutes. Remove from the grill and serve immediately.
Instead of the potato salad, make a fresh corn and tomato salad, also by Chow.
You will need:
Directions:
Prepare an ice water bath by filling a large bowl halfway with ice and water; set aside. Bring a large pot of heavily salted water to a boil over high heat. Add corn kernels and cook until tender, about 4 minutes. Drain and place in the ice water bath until cool, about 4 minutes.
Combine lemon juice, salt, and pepper in a large nonreactive bowl. While continuously whisking, add oil in a steady stream until completely incorporated. Add remaining ingredients and cooled corn and toss until well coated. Serve.
Finish off with a delicious Chow dessert. Try the simple yogurt trifle with pomegranate, pear, and dates.
You will need:
1/4 cup plain yogurt
1/4 cup small-dice pear
1 heaping tablespoon pitted, small-dice Medjool dates
3 tablespoons pomegranate seeds
honey to taste
Directions:
In a small bowl, layer yogurt, fruit, and honey. Repeat twice more.
And voilà! You have a delectable Fourth of July meal that will satisfy the occasion while keeping your heart and body healthy. If your appetite still isn't satisfied, take a look at these six other healthy recipes.