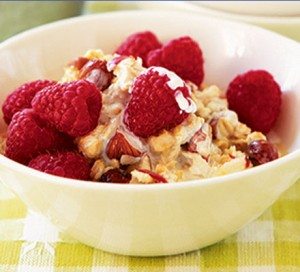 By: Molly Cimikoski, Editorial Assistant
With the latest Kellogg recall virtually banning several of the sugary cereals that children (and the young at heart) have come to enjoy, LuxEco Living is here to offer safe and delicious breakfast suggestions.
As our friends at WebMD point out, sometimes the healthiest cereal options don't hold as much initial appeal as we would hope . However, do not be disheartened; there are plenty of ways to make even the most fiber-filled bowl taste great!
Adding fruit, fresh or dried, to your breakfast routine not only kicks up the flavor, but it helps your metabolism start up faster as well!
A lot of granola products are already packaged with dried fruit and nuts, plus they taste delicious when poured over a healthy serving of yogurt. Pick whatever flavor you like! With the addition of all that healthy pro-biotic bacteria in your system, your body will be thanking you and you'll feel full longer!
Our affiliates at Healthy Child Healthy World recommend products from Earthbound, Organic Valley, and Whole Foods Market.
Read on for more information about Kellogg's safety recall.