Shopping and eating seasonally from your local farmers market tastes better, has higher nutritional values, promotes healthy eating habits, reduces environmental damage from shipping foods, and can even be kinder on your wallet.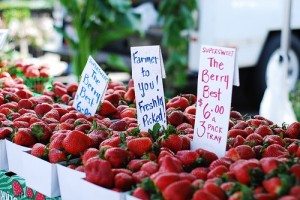 By Hannah Canvasser, LuxEco Editorial Assistant
Shopping at your neighborhood grocery store, many don't realize that most of the abundant supply of produce comes from thousands of miles away, and is picked before ripeness to give consumers what they demand. Who would have thought that we could have peaches in October and butternut squash in June! Although off-season and premature picked produce will color and soften on the way to market, taste and nutritional value will be lost. Understanding what produce is available during certain seasons, and shopping at local farmers markets can change these eating habits.
Here are a few reasons to stay local and seasonal with your eating habits:
Taste and Nutritional Value:
There are many products available at local farmers markets that will not only be rich in flavor, but high in nutritional value due to ripeness when picked and seasonality. Artichokes, asparagus, avocados, broccoli, mushrooms, spinach, corn, red pepper, green beans, peas, and beets are all great spring vegetable additions to your kitchen. Try a spinach artichoke dip as an appetizer or some tasty grilled Portobello Mushroom sliders to entertain with friends. Mango, pineapple, grapefruit, kumquats, lemons, oranges, tangerines, strawberries, cherries, nectarines, peaches, plums, melons, and lavender are very popular throughout spring and will enhance your eating habits . With your pantry now stocked, relax with a refreshing strawberry basil lemonade and fresh avocado grapefruit salad, or indulge with some lavender bread pudding.
Less Expensive:
Seasonal eating habits are also less expensive for your weekly grocery trips because the products are easily and readily available. Without the hassle of growing raspberries in the dead of winter or the need to ship products across country, produce is cheaper for the grower and buyer! By supporting local farmers, a sense of community is formed. According to USDA, "Local and regional food systems mean fresh food, vibrant communities, a strong connection between cities and the countryside, and support for this and the next generation of farmers and ranchers."
Reduces environmental damage:
Buying locally not only supports your local farmers, but also reduces what would have been environmental damage caused from shipping produce from thousands of miles away. And don't forget to BYOB– bring your own bags! Though a simple idea, many of us forget, and shopping with one reusable bag during the course of it's lifespan will save the use of over 1000 plastic bags!