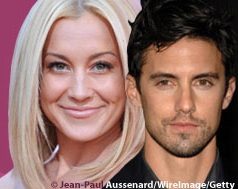 It's no surprise! Country music starlet Kellie Pickler and Heroes' star Milo Ventimiglia are pretty sexy. Both were named Sexiest Vegetarians Alive by PETA in 2009 but who is PETA's Sexiest Vegetarian Next Door 2010?
You don't have to be a celebrity, just a happy vegetarian that wants to contribute in efforts to promote a plant-based diet that is cruelty-free, eco-friendly and widely thought of as being one of the safest ways to maintain beautiful health and vibrancy!
The deadline is fast approaching! Green Guys and Gals, get your applications and hi-res photos in by March 12, 2010. (But first, learn more about their contest guidelines.)
Oh! And did I mention that the first prize  for both the winning male and female is a fabulous trip for two to Maui, including round-trip airfare and beautiful accommodations for seven nights, courtesy of your own private travel provider, PMAP (the PETA Member Advantage Program).