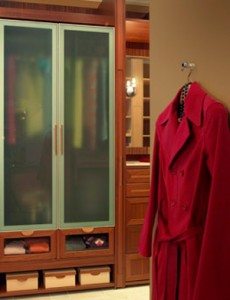 Sustainable Design: Green Cabinetry
By: Lisa Adams, Designer and CEO of LA Closet Design and LuxEco Advocate
So much is said about going green, but what exactly defines green? In short, green design (also referred to as "sustainable design" or "eco-design") is the art of designing and building environments that comply with the principles of economic, social, and ecological sustainability. The goal of designing green is to produce places, products and services that significantly reduce or eliminate negative impact on the natural environment, while creating healthy places to live and work. When it comes to your home, educate yourself and make conscious choices about the materials living with you. Do they meet these goals?
Let's start with the cabinetry in your kitchen, bath, and closet. Most people never realize it, but when they are in these rooms, they could be breathing in volatile organic compounds (VOCs) such as formaldehyde, emitted by the finishing of the cabinetry. Formaldehyde is an organic compound used in the production of resins and hardwood furniture finishing. Its fumes are harmful when inhaled in areas with poor ventilation. These "silent poisons" are most often in such small proportions that they go undetected. When selecting your wood, look for non-toxic finishes that have low or no VOCs.
In addition to the finishing, know how the wood is grown and processed when determining how green the cabinetry is. Is it a recycled wood? Is it a fast-growing wood like alder or bamboo? The U.S. Green Building Council (USGBC) and The Forest Stewardship Council (FSC) have developed certification systems that provide standards for responsible production and consumption of forest products, enabling the consumer to make pre-qualified green purchasing decisions.  These labels can now be found at any of the major home stores or can be requested through your cabinet maker.
Lastly, as you shop for new cabinetry, consider looking for cabinets that have been made in your local community. Not only will you be supporting your neighborhood, but you will also be making an eco-conscious decision. Remember, the farther something has to travel to get to your home, the worse it is for the environment.
Going green in your home is not only a benefit to your health, but also the sustainable choice for your home and mother earth.  Start with your cabinetry and continue to dissect each piece of your home and evaluate its content, health effects, and sustainability.
See more of Lisa Adam's beautiful and sustainable cabinetry designs at LA Closet Design