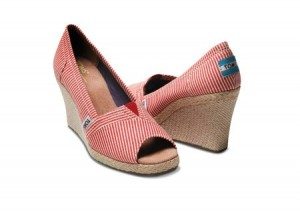 By Molly Cimikoski, LuxEco Editorial Assistant
Here at LuxEco Living there are lots of things we like to indulge in (I write this moments after devouring Uncle Eddie's Vegan Cookies…) and three of the big ones are eco-friendly products, helping others, and shoes. In an all-star combination of these profound loves, we couldn't be more excited about TOMS new wedge shoes!
Marketed as "the newest and tallest member of the TOMS family," these 3 ¼" "heels with a heart" are not only adorable, but they are made with natural canvas. To top it all off, the standard (and wonderful) TOMS motto still applies, meaning that with every pair purchased, another is donated to a child in need.
The wedges are currently available in six different colors, in sizes ranging from women's 5 to 11 for $69.