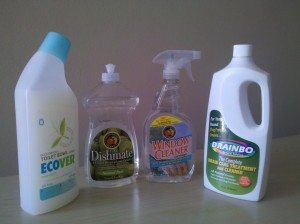 By Jessica Borges, LuxEco Living Editorial Assistant
I recently moved into a new apartment, and with that came a massive scrub down of both old digs and new. My roommates and I spent hours cleaning the old place after moving everything out, but the products we used were hardly eco or health-friendly. The piercing smell of Comet seemed to permeate everything within 50 yards of where we used it. When scrubbing the Comet-filled bathroom tub, the smell was so overwhelming that I nearly passed out and had to take several breaks for fresh air outside. While cleaning bathrooms isn't normally an enjoyable task, it doesn't have to be one that puts people's health and safety at risk.
According to a recent air pollution study conducted by the Environmental Working Group (EWG) where 20-plus cleaning products were tested, several popular brands revealed toxic ingredients. Among those, Comet Disinfectant Powder Cleanser was highlighted as producing 146 air contaminants when used as directed – more than any other product tested. And most consumers aren't even aware of this. If you take a close look at the Comet label shown below you can see that it says:
ACTIVE INGREDIENTS: Sodium dichloro-s-triazinetrione dihydrate (comprises of 1.2 percent of Comet).
OTHER INGREDIENTS: nothing listed (and yet, this mysterious "nothing" comprises of 98.8 percent of Comet)
TOTAL: (100 percent) Obviously. But what do we, as customers, make of the 98.8 percent of ingredients that we're pouring all over our kitchens and bathrooms?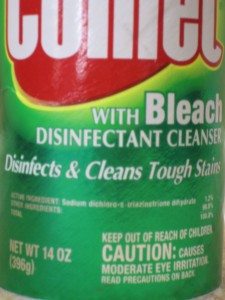 Fortunately the EWG published their ingredient findings, reporting that Comet fumes contain formaldehyde, benzene, chloroform, and four other chemicals identified by the state of California as causing cancer or reproductive harm. Three of the chemicals EWG detected—formaldehyde, toluene, and benzene—are components of gasoline. The study aims to create a sense of urgency for California State legislature to adopt a measure that would encourage school districts across the state to use less toxic cleaning supplies.
While the battle with government over setting guidelines on cleaning products in schools is still underway, we can make small changes in our own houses. The EWG found that countless popular cleaning supplies emit over 450 contaminants into the air, including those that trigger asthma and/or those that have been linked to an increased cancer risk. At the time I decided to make a change in my cleaning products, it wasn't this fact that woke me up; it was the overwhelming inhalation of Comet that nearly knocked me off my feet that did the trick. But the statistics certainly help drive the point home.
When we moved into our new apartment, I bought every "green" cleaning product I could find. I cleaned the countertops with Earth Friendly Products (EFP) Orange Plus Surface Cleaner, the toilets with Ecover Toilet Bowl Cleaner, unclogged the drains with Drainbo, washed the dishes with EFP Ultra Dishmate Dishwashing Cleanser (Natural Pear scent – so fresh!), and cleaned the windows and mirrors with EFP Window Cleaner. You may not be in the market to wipe out your current cleaning products to replace them with eco-friendly ones, but as your budget allows, you can make small changes over time and consider it an investment in you and your family's health. Homemade products are also an amazing substitute.
The cleaning process in the new apartment couldn't have been more different from that of the old apartment, especially in that I didn't feel like I was going to pass out at any moment. The eco-friendly products were not heavily perfumed so there wasn't a strong "clean" smell, but instead a more naturally clean feel to the whole apartment. There is something about that non-smell that is comforting. We've grown so accustomed to things being considered "clean" depending on the intensity of their lemony fresh or lush lavender scents, but if you're aiming for a natural and toxic-free clean home the less you smell, the more likely your products are doing what they should for your home and for the environment.
Note: Looking for an alternative to Comet? Try this easy at home concoction by mixing baking soda with water and white vinegar.
If you are interested in learning more about the ingredients in cleaning products you use in your home, click here for the list of 20 products the EWG tested.