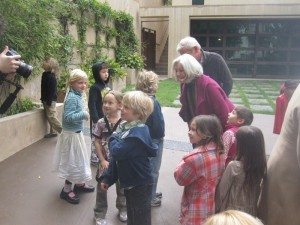 By Nancy Chuda, Founder of LuxEco Living and Healthy Child Healthy World

I hear and I forget I see and I remember I do and I understand forever
-Chinese proverb
In 2005, when James Chuda built his third case study environmental home he envisioned   the structure would become an Earth Institute and provide an educational opportunity to inspire future generations.
Over 3,000 people toured the Green Home Under The H when it was chosen as Los Angeles Magazine's Design Green Home of the Year. And later it was toured by Leo Di Caprio and seen on Oprah.com.

But of all the people who toured our Green Home the most memorable was the day the Wolf Pups, the "little people," elementary students from the Muse School came for a visit.
What could be better than an opportunity for a field trip. Not just an ordinary  trip to a museum or a park. How about a trip to Hollywood to learn all about how to build a Green Home Under The H– where the H stands for Health.

Jim and I were inspired having met Suzi Amis Cameron, co-founder of Muse Elementary School whose mission is to teach children about the importance of developing the inner ecology.
The Muse philosophy is to create an environment where joy leads and learning follows- where young minds are stimulated through intellectual rigor and hands on experience, bodies are nourished with fresh organic foods, and the awareness of each individual's connection to our planet and all living things is cultivated daily.
The tour began in our LuxEcoLiving headquarters, with Jim teaching the students about sustainable architecture. Our Green Garage which houses two important aspects of the renewable energy systems we employ. LifeSource Water and Gridpoint Solar System.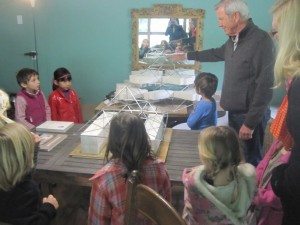 To begin, he described the importance of one of the first architectural forms ever built.  The great pyramids of Egypt. Using the  pyramid form Jim described a new energy structure he has been developing which utilizes a new technology one which will enable humans to inhabit space frames.

As Muse is committed to nuturing an inner and outer awareness in children celebrating and respecting each child's spirit and individuality we were treated to what Art Linkletter spent his entire life preaching, "Kid's Say The Darndest Things." And they did!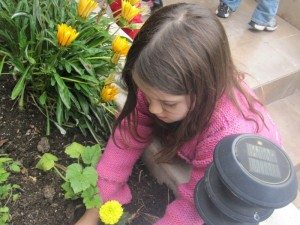 The Wolf Pups were hands on students. They got to plant flowers in the garden– and learned the benefits of companion planting using Marigolds to create a border to attract beneficial insects. Instead of having to use pesticides which are harmful to human health and the environment.

They shelled fava beans which were grown from seeds purchased from our favorite organic seed company, Seeds of Change (who provides a great catalogue which enables anyone to start a garden. Whether you live in an apartment or a home–there's a way to grow green plants, flowers, vegetables and fruits).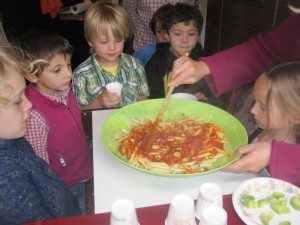 One of my favorite recipe's is Organic Pasta Puttanesca. I learned from my mother how to make the most delicious sauce. Using vine ripened organic tomatoes, some heirloom varieties, grown utilizing a new method of planting upside down called Topsy Turvy, a new inexpensive way to grow tomatoes anywhere outside your home. The Wolf-Pups gobbled up their pasta and asked for more.
When it came time to say good-bye– we were treated with a song.

The five hours we got to spend with these very special students taught us the joy and special importance  of that proverb. Our memories are the gateway to understanding that knowledge is a powerful gift not only to give but to receive. Additionally, this was a very significant day. It commemorates the day we began our charity, Healthy Child Healthy World.

May the Wolf Pups prosper and grow and someday become the muse for inspiring others, who like them to become LuxEco Advocates for the planet.
Fall in love with the Muse Kids at the Green Home Under The H as they learn about how fun Green Living is!