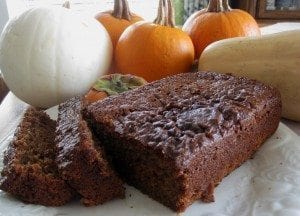 By Kerin Van Hoosear, LuxEco Editorial Assistant and author of Seasonal Cooking with Kerin
The holiday season is in full swing and that means it's time to crack open that canned pumpkin, right? No! Take the time to head down to your local farmers market and pick out a few choice pumpkins to use this season; they're incredibly versatile! To break it down, cut the top off and then cut the pumpkin into workable pieces. I find quartering it works really well. With the side of a spoon, scrape away the seeds. To get the raw meat out, scrape against the grain and you'll get nice short shredded pieces. This pumpkin bread is just one way to use your pumpkin; make sure you save your leftovers for another recipe!
Pumpkin Bread
2 cups all-purpose flour
2 teaspoons cinnamon
2 teaspoons nutmeg
1 teaspoon baking soda
1/4 teaspoon baking powder
1/2 teaspoon salt
1 1/2 cups sugar
3/4 cup vegetable oil
3 large eggs
1 teaspoon vanilla extract
3 cups shredded fresh pumpkin
Preheat the oven to 325 degrees F.
Sift the flour, cinnamon, nutmeg, baking soda, baking powder, and salt together.
In a separate bowl, mix the sugar, vegetable oil, eggs, and vanilla. Combine both mixtures and fold in the shredded pumpkin. Once the ingredients are all incorporated, pour them into a non-stick 9 x 5 x 3 inch loaf pan. If your pan isn't non-stick, coat it with butter and flour.
Bake for 1 hour and 15 minutes. Test its readiness by sticking a knife through the middle of the loaf. It should come out clean.  Cool for 15 minutes and turn out onto a cooling rack. Cool completely. For muffins, the temperature should also be 325 degrees F, but bake for 30 minutes.