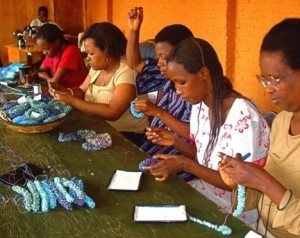 Yes, the bracelets made of delicately rounded glass beads that look like raindrops dripping around the wrist are stunning.  I'm like a squirrel with shiny things- I'm just drawn to them and I just want to run my fingers up and down all of them.  But then I learned more about these bracelets and how they are made and I think that makes these wearable works of art even more gorgeous and precious.
Founded in 2007, Same Sky is a fair-trade jewelry company based in Kigali, Rwanda that empowers  women by giving them an opportunity and tools to become entrepreneurs and lead self sustaining lives that allow them to take care of themselves and their families.  Of the 36 women that handcraft these beautiful bracelets,  all are HIV+ genocide survivors, earning 10 times the average wage made by women in sub-Saharan Africa.
Many African women are often vulnerable to prejudice due to their HIV+ status and often cannot find adequate work or acceptance within their communities despite the massive numbers of those infected.  During the 1994 Rwandan Genocide, women in Rwanda were subjected to sexual violence on a massive scale. According to the International Criminal Tribunal, more than 250,000 women were raped during this genocide. Of the survivors, approximately 70% were infected with HIV/AIDS and left impoverished after their husbands, fathers, and brothers were murdered. Same Sky has made a difference in these women lives and provided "trade, not aid" so that they can empower themselves and honorably rebuild their lives and communities.
Same Sky has partnered with Gahaya Links, a Rwandan handicrafts organization founded in 2004 by sisters Janet Nkubana and Joy Ndunguste. The artisans making Same Sky bracelets work in a collective. Within the collective, these women are free to discuss social issues of the day like domestic violence, western medicine, and opening a bank account. Same Sky also provides the women artisans with a daily stipend that covers transportation to and from work and a daily meal.  The income they earn ensures they can provide food, education and healthcare for their entire families.
All proceeds from the sale of Same Sky bracelets are reinvested into expanding the business to other regions and employing more women artisans. You can read some of the stories of these women here.
Same Sky onThe View:
Here are some of my favorites, but check out the store!