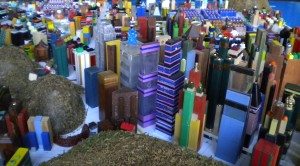 By: Molly Rovero, LuxEco Editorial Assistant
Imagine a world without fossil fuel powered cars! This is what the Los Angeles chapters of the American Planning Association and the American Institute of Architects teamed up to do when they created Rail LA, a group dedicated to "healing the wounds of past infrastructure projects" and helping transition from "an automobile based society to a transit based one." They seek to raise awareness about the myriad of benefits that high speed rail can have for Southern California, such as a reduction in emissions, mitigation of traffic congestion, and countless other environmental concerns related to society's daily reliance on fossil-fuel-powered transit.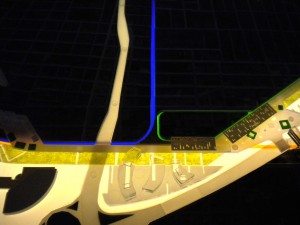 This ten-year project would cost $42 billion. The first scheduled inter-city line, L.A. to Anaheim, is set to break ground within a year in order to take advantage of federal funding received. The new trains will offer fast city-to-city travel and cut down on highway use as well as air travel. The question then remains: how will one get around once they have reached the city? Los Angeles county is also planning to address the plague of transportation woes within the city limits as well. Future plans will include the extension of existing public transit routes and the addition of several new modern light rail systems to alleviate  the growing need for citywide transportation.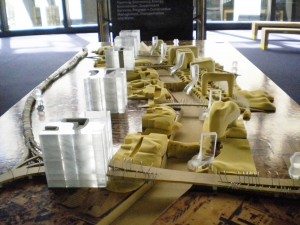 LuxEco Living had the opportunity and pleasure to catch up with Rail LA's Chair, Gunnar Hand, at "LA Beyond Cars", an exhibit sponsored by Rail LA that invited submissions from architects around the world, including such talent as the renowned Zaha Hadid's London-based architectural firm and the Dutch partners MVRDV (whose recent projects include a new addition for the Cleveland Institute of Art and a design bid for the 2012 Olympic village, chosen by the NYC2012 Olympic committee as a top-five design finalist). Watch and listen below as we explore some of the ideas and possibilities of high speed rail.
Listen to Mr. Hand explain how the new train system would compare to existing systems.
Listen as Mr. Hand Explains Zaha Hadid's Rural Transit Station
Watch: An Aeriel View of LA
Watch: Turning Rail Yards into Parks


Fixing our ailing transportation infrastructure requires innovative thinkers who dream big when it comes to re-imagining for our future needs. High speed rail only scratches the surface of possibilities for the future, but it is a tremendous leap in the right direction.
Additional information, along with numerous other modern and ecologically progressive ideas can be found here at the Rail LA website. Updates for a future exhibit space will also be posted on the site. Other new innovative ideas are always welcome as Rail LA calls for ongoing submissions, so share yours!